Emily beats actress sister to a starring role on the small screen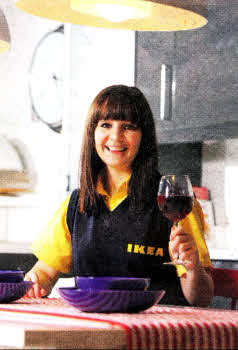 YOU might not think the best way to get on TV was to become an Ikea kitchen specialist, but Emily Hall from Hillsborough has beaten her actress sister to become the first member of the family to appear on the small screen.
Emily is one of the stars in a major new three part TV commercial which started airing on Channel 4 this week. Emily, who works at Ikea in Belfast, was chosen from thousands of applicants to be one of 'The Ikea Kitchen Squad' tasked with making over kitchens throughout the UK.
The 'guerrilla style' prime time advertisements feature homes in need of a new kitchen and Emily with her fellow Kitchen Squad team members have to design and fit a new kitchen while their work is recorded along with the homeowners' reactions.
The transformation is the first reality home makeover commercial was aired on TV last Friday night.
Emily, who studied interior design at the University of Ulster, said she enjoyed the challenge of her starring role. She said: "Being a member of the Kitchen Squad has been a fun, worthwhile experience and hugely rewarding. I love kitchen design but the best part was seeing the reactions of the homeowners' when their kitchen was finished."
Emily added: "My sister is an actress so the standing joke with my family now is that I made it on TV before she did."
The filming of the advert was carried out 'guerrilla style' with a series of hidden cameras placed around the unsuspecting participant's house. The cameras capture the reaction of each person coming home to find their kitchen entirely missing. Every cupboard, work surface, appliance and even the kitchen sink are ripped out and taken to an unknown location for demolition. All that is left in the empty kitchen space is a yellow telephone, ringing with the news that the Kitchen Squad has paid them a visit.
Over the course of the next two episodes the participants watch on in amazement as their old kitchens are destroyed before their eyes and are finally overcome with emotion at the grand unveiling of their brand new kitchen.
Ikea UK & Ireland External Communications Specialist, Vala Magnadottir commented: "Although their methods may be extreme, after watching these adverts everyone will want to come home to see a little yellow telephone waiting for them.
Ulster Star
05/03/2010