Cancer Group celebrates 30 years of fundraising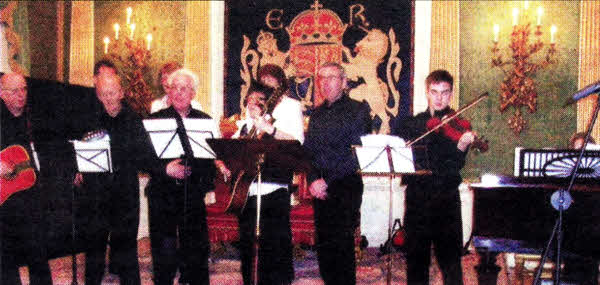 Singing group Accord at Hillsborough Castle during Finaghy Cancer Group's 30th anniversary celebration.
FINAGHY Cancer Group recently marked its 30th anniversary with a celebration evening in Hillsborough Castle.
The night began with a drinks reception to welcome over 100 friends and supporters. This was followed by a variety of musical entertainment by singing group Accord and renowned local clarinettist Victor Currie. Afterwards a supper was provided by group members.
The group began in 1977 after Finaghy woman Moya McCann was diagnosed with breast cancer. During this period friends and family rallied round to help Moya through the dark days of surgery and chemotherapy. By ensuring she had lifts to hospital appointments and looking after her six year old daughter Debbie, they gave both her and her anxious husband Billy, their support.
A short time after this, they founded the Finaghy Cancer Group.
"I thought it would be something that would last for a few tears and then fold", said Moya's husband Billy. "It's hard to believe that we are still fundraising 30 years later."
A scrap book of newspaper cuttings kept by Moya details the events organised by the group.
To date they have handed over somewhere in the region of £750,000 to numerous cancer fighting causes in Northern Ireland Amongst those to have benefited have been the Haematology and breast cancer unit at Belfast City Hospital, the Colorectal Surgical Unit and the Carrickmannon Suite MRI Scanner both at the Royal Victoria Hospital and several local hospices.
Following her chemotherapy Moya went on to enjoy many years of good health until she passed away in 2007 following a heart condition. Sadly she was not part of the anniversary celebrations but she was there in the hearts and minds of those who remember her and remain faithful to the work of the Finaghy Cancer Group.
Ulster Star
02/04/2010