Celebrity judges to view local teenagers' film
by STACEY HEANEY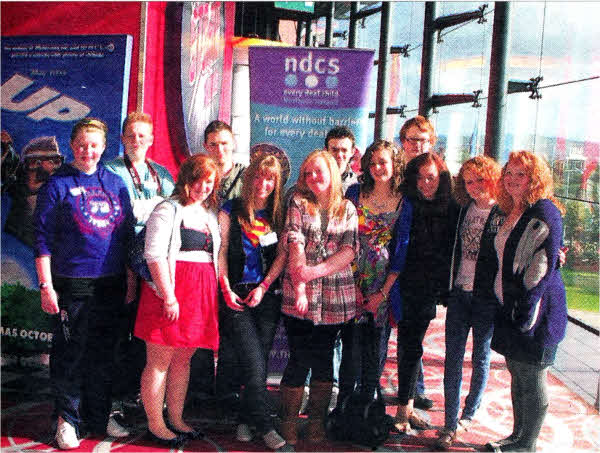 L-R: Katie McCormick, Kells, Ballymena,14; Daniel Wotherspoon, Carrickfergus,14; Nicola Agnew, Portadown, 17; ColM 0'Neill, Lisburn, 17; Tasha Henderson, Belfast, 16; Emily Smith, Dromore, 16; Kevin English, Holywood, 19; Sophie Cochrane, Jordanstown, Newtownabbey, 16; Rohan Woodcock Portaferry, 14; Yemaya Moffett, Belfast, 13; Lucy Mulholland Carryduff, 17 and Holly Gault Moira, 17.
A COMEDY film which was co-written and directed by a number of local teenagers has been nominated in the Best Comedy category at the First Light Awards 2010, a competition which recognises the UK's young filmmakers.
The film, titled Flukey Finn, was written and directed by 13 deaf teenagers from across the country, including 17- year-old Colin O'Neill from Lisburn, 16-year-old Emily Smith from Dromore and Lucy Mulholland from Carryduff and Holly Gault from Moira who are both 17. Flukey Finn will be reviewed by a panel of celebrity judges, including Alan Parker, Joseph Fiennes and Sam Mendes. On Tuesday March 2, winners in each category will be announced at a star-studded awards gala which will be hosted by BBC's Dick and Dom at London's Odeon, Leicester Square.
Stacey Kilpatrick, NDCS Arts Officer, said: "To have Flukey Finn reviewed by such prominent directors as Parker and Mendes is a real honour for the young people, and a great opportunity for these budding filmmakers.
"The young deaf people did a superb job in leading all stages of filmmaking, including acting, directing, filming and editing material from the week. I wish them all the best of luck," said Ms Kilpatrick.
Received
Flukey Finn also received an award at last year's Deaffest, the UK's only deaf-led film festival, coming third in the Young Deaffest Award category. The film was made through the NDCS Summer Film Project with invaluable support from BBC Blast and First Light Movies. The project has been running for five years, bringing together deaf teenagers from across Northern Ireland to develop their filmmaking skills and enhance their confidence. For more information about NDCS, visit www.ndcs.org.uk. To watch Flukey Finn, visit: https://www.bbc.co.uk/northernireland/schools/11_16/blastni/film.shtml.
stacey.heaney@ulsterstar.co.uk
Ulster Star
21/01/2010