Fort Hill pupils enjoy Paris business trip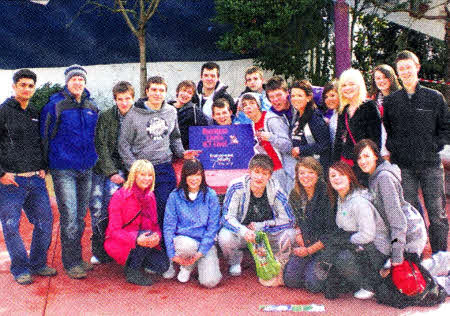 The group from Fort Hill College who went to the Disneyland Resort, Paris.
SIXTH year pupils from Fort Hill College recently attended a business conference at the Disneyland Resort, Paris.
They were accompanied by Mrs. Patterson and Mr. Simpson and the purpose of the event was to encourage enterprise and entrepreneurship and to build on their current business knowledge.
The students met three professionals who have made an impact in their specific area of expertise. Students had the opportunity to quiz speakers at the end of their presentations. The pupils were inspired mostly by Fraser Doherty of Superjam. Fraser, now 20, was recently named 'Global Student Entrepreneur of the Year. He set up Superjam at the age of 14,
using his grandmother's secret jam recipes and selling his produce at farmers markets and delicatessens.
Over the years he has developed the method of producing jam entirely from fruit and fruit juice, making it healthier and better tasting than regular jams. In 2007 Fraser became the youngest 'ever supplier to a major supermarket chain when Waitrose launched his range. Superjam sells over 500,000 jars a year and now supplies over 1,000 supermarkets in the UK (including Tesco, Asda and Morrisons) and is working on expanding overseas.
Following the business conference students made use of the park attractions and met some of their favourite Disney characters.
Ulster Star
26/03/2010