Fort Hill scarecrows ready for Garden Show contest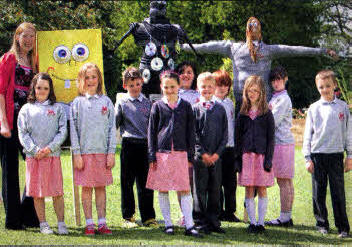 THERE may not have been a tinman or cowardly lion in sight, but there were plenty of scarecrows when Primary 5 pupils from Fort Hill Integrated Primary School put the finishing touches to the scarecrows they have created for this weekend's Hillsborough Garden Festival.
The Fort Hill scarecrows are en route to Scarecrow Street, where the new occupants will enter the Allianz Scarecrow Street competition, which is co-ordinated by the Integrated Education Fund and has created great excitement in schools across Northern Ireland.
After weeks of hard work and with the help of their teachers and classroom assistants the pupils waved goodbye to their scarecrows as they made their way to Garden Show Ireland, which will take place from today (Friday May 21 - Sunday May 23).
Scarecrow Street, a very special area of the show sponsored by Allianz, will feature scarecrows designed and made by children from integrated primary schools throughout Northern Ireland. Each school will be hoping that their scarecrows will catch the eye of the judges and scoop an award.
Fort Hill teacher Debbie Lockhart said: "The kids have made three scarecrows, Spongebob Squarepants who will enter the best celebrity look-alike contest, Robo-scarecrow, which is entering the eco-friendly contest. He is made from recycled parts and his head is a solar-powered light, and then Dolly Anne is a traditional scarecrow. The kids designed them and we spent a couple of afternoons putting them together. The kids had a great time making them and hopefully we'll have good Northern Ireland weather for them."
Sharon McTaggart from Allianz said, "We're all looking forward to seeing the very exciting and unusual line up of scarecrows on display at this years Garden Festival."
Allianz Scarecrow Street will be opened to the public during Garden Show Ireland, which takes place in the beautiful surroundings of the Walled Gardens at Hillsborough Castle this weekend and is open from 10am-6pm each day. Parking is free and a special shuttle service is provided to and from the dedicated car parks.
Tickets can be booked online at: www.gardenshowireland.com.
Ulster Star
21/04/2010