A giant of Northern Ireland industry passes on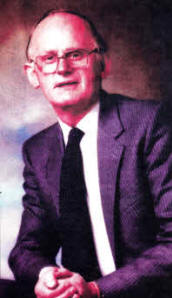 THE death has taken place of one of Northern Ireland's best known industrialists, Lisburn man Fred (FG) Wilson, at the age of 83.
Born in Moira in I926 as the fourth of nine children, he began his working life as an Apprentice Fitter in Coomb Barbour Textile Machinery Factory in Belfast's North Howard Street.
But by 18 he was in business and self-employed, selling army surplus to the farming community and trading in Hessian animal feedbags.
From I950 he worked as a scrap metal merchant and sold metal products to the Farming community, then in I958 he made his next big step in business, purchasing the Island Shipping Company factory in Lisburn which employed I0 people.
By I960 he invented and patented the Wilson Foldfork, a then revolutionary Forklift Truck attachment for fitting to a conventional lorry. He produced several hundred of these before selling the technology and patents to a large English company.
In 1966 he purchased the Coomb Barbour factory where he had begun his working life as an apprentice and formed FG Wilson (Engineering) Ltd. Four years later FG Wilson designed the first diesel electric generator sets. Initially they enjoyed limited success, but a series of power cuts in the Republic of Ireland saw sales go up to around 50 units a year.
But that increase was dwarfed when the miners' strike led to the three day week in the UK and turnover multiplied by I0 times in one year.
More than 200 new companies started in the power generation market at that time, but within three years only a handful were left - including FG Wilson. Around this time Mr Wilson was forging strong relationships with suppliers in the USA, and when domestic demand for generator sets fell away to nothing in I974 he immediately headed to the Middle East and then Nigeria -the main oil producing regions.
In I978 he supplied the first power station sized generator sets to Dubai and by I980 employee numbers had reached 200.
The company moved to Newtownabbey after the bombing of the North Howard Street factory in I982 and over the next decade the number of workers rose to 900 with sales to over 100 countries.
In I984 Mr Wilson started Wilson Double Deck Trailers, manufacturing specialised road transportation trailers for the food and garment distribution industry. At its peak the company employed 250 people in Craigavon.
FG Wilson won the first of its three Queen's Awards for Export in 1989 and it continued to go from strength to strength, employing I250 people in I994 after the purchase of the GEC factory in Lame.
In I999 Mr Wilson sold the technology and patents of his product line up when he retired. However, the 73 year old was unable to hang up his entrepreneurial hat, starting another new business within the year.
He formed Mobile Equipment Enclosures which manufactures a range of golf buggy products, designed by Mr Wilson himself.
His lifetime of hard work and service to the engineering industry were recognised with an OBE in the Queen s Birthday Honours List in 2009 for services to Entrepreneurship and to Engineering.
Trade and Enterprise minister Arlene Foster said: "Fred was a true example of how drive, determination and know-how can make Northern Ireland business successful on the world stage. This is a lasting legacy of which we can all be proud."
And Employment and Learning minister Sir. Reg Empey said: "Fred was a tireless champion of Northern Ireland's cause in the global marketplace. His vision and drive made FG Wilson not only a leader in the field of engineering but under his guidance, FG Wilson became a byword for best practice in workforce development and training." Mr Wilson is survived by his wife Irene and children Tom, Linda, Gordon and Paul.
Ulster Star
26/02/2010