Friends' pupils enjoy breath-taking trip to Iceland

Pupils from Friends' school visiting a waterfall on the Hellisheidi plateau during their recent Geography trip to Iceland.
LAST month forty-four intrepid adventurers from Friends' School Lisburn set off for the experience of a lifetime. Their destination: Iceland.
The group, from Year 12 to Year 14, and four members of staff set out to learn more about Geography.
On the first day the group went to the Blue Lagoon and quickly immersed themselves in the mineral rich steamy waters. The sights around the manmade oasis were spectacular around the desolate lava fields.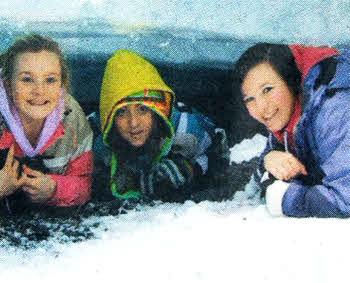 On day two, the Golden Circle Tour began. This included a trip to the Pingvellir National Park, where they stood on the Mid Atlantic Ridge and Rift Valley between the North American and Eurasian plates. At this location tectonic forces can clearly be seen as the two plates pull away from each other.
Gullfoss Falls was the next destination.
It is described as the most beautiful waterfall in the country.
On day three they passed the most active volcano in Iceland, Hekla, predicted to erupt every 10 years, with the last eruption in February 2000. All the dedicated Geographers stared out the window at the volcano, hoping for it to erupt in front of their eyes.
On the journey to the glacier they also visited two breath-taking waterfalls. They both soaked the group, due fo their spray and the inevitable snowball fights. The glacier was the next stop and as the group walked up to the glacier tongue, they were impressed by its size. Unable to scale the glacier for safety reasons, they contented themselves with climbing through and sliding underneath it. Finally they visited the Hellisheidi Geothermal Power Plant, where 50% of all generated electricity goes to heating.
Ulster Star
19/03/2010