Set sail with Fusion Theatre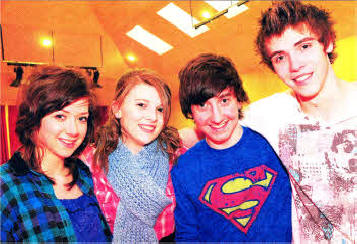 During rehearsals for Fusion Theatre's upcoming production of HMS Pinafore are
(1-r) Emma Catney, who plays Buttercup, Hannah Conlon who will become Josephine, Jack Walsh who will play Ralph Rackstraw and Adam Gillian who will be Captain Corcoran. Pic by Donnie Wright.
FUSION Theatre are getting ready to set sail on board HMS Pinafore for their latest production, which is due to cast off from the Island Hall in Lisburn on Wednesday February 17 at 7.30pm.
Fusion Theatre is a Lisburn-based youth theatre group which prides itself on its twin ethos of high artistic standards, and inclusion. In advance of its bid for awards at the Buxton Gilbert and Sullivan Festival in July, it will be launching four performances of HMS Pinafore from February 17 - 20.
Fusion has already won various awards for its modern interpretation of traditional Gilbert and Sullivan operettas in the past, and this forthcoming production promises to be even more special, with new orchestration by Matthew Milford, and lively, energetic and fresh direction by Ian Milford, ably assisted by Rebecca Leonard's choreography.
"This is a fantastic opportunity for Fusion Theatre to compete on a big stage against other youth groups, and to put us on the map in terms of talent and artistic standards," said Director Ian Milford.
"This is the first year that the festival has been open to youth groups, and it has been over-subscribed, so we are keenly aware of the chance which we have been given, to show what we can do. I have high expectations of the young cast, and I know that they will do Lisburn, and Northern Ireland proud. Come to Lisburn, and see in advance why Gilbert and Sullivan aficionados throughout the world flock to Derbyshire every July.' This production has been supported by the Arts Council's Lottery Scheme, and by the St Anne's Christmas Sitout. Chairperson Anne McCleary said that this support is crucial in enabling them to keep their performances accessible to all, in accordance with its ethos of inclusion.
The production features Hannah Conlon as Josephine, Jack Walsh as Ralph Rackstraw, Adam Gillian as Captain Corcoran, Cormac Nelis as Dick Deadeye, Emma Catney as Buttercup, and Conal Corr as Sir Joseph Porter, alongside 60 other assorted sailors, sisters, cousins and aunts.
For further information or to book tickets for the show contact the Island Arts Centre Box Office on 028 9250 9254.
Alternatively log onto www.tickets.lisburncity.gov.uk.
Ulster Star
29/01/2010