Tough plants for tough times at garden show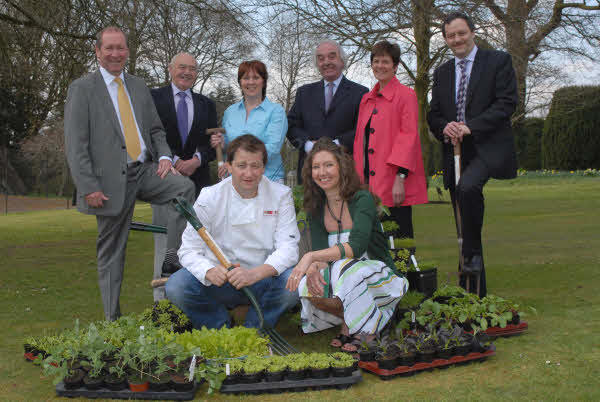 Back row l to r: Sam Harris, Snoddons of Hillsborough, Alderman Jim Dillon, Lisburn City Council, Cllr Jenny Palmer, Lisburn City Council, Brian Snoddon, Snoddons of Hillsborough, Claire Faulkner, Garden Show Ireland, Jim McCauley, Translink, Lisburn. Front row: Derek Patterson, The Plough lnn, Hillsborough, Jacqueline Gibson, Graham.
HIILLSBOROUGH is gearing up to host Northern Ireland's premier horticulture event - Garden Show Ireland.
The event returns to the walled garden at Hillsborough Castle next month and visitors will be the first to view a new plant which will have its official world launch at the Show — Carex Everillo. After what has been recorded as the coldest winter in 31 years by the Met Office this hardy plant seems set to be welcomed by horticulturists and garden enthusiasts alike.
Pat Fitzgerald, Fitzgerald Nurseries, who bred the Carex Everillo says: "Garden Show Ireland has become a unique horticultural event in Ireland. It is a gathering place for the gardening fraternity as well as interested amateurs. That's why I wanted to use it as a platform for launching Carex Everillo.
"Gardeners have had a very tough time this winter losing plants, and plants getting damaged with the severe snow and frost. One of the characteristics of the Carex Everillo is that it can withstand temperatures as low as minus 15 degrees Celsius, maintaining its leafy green appearance all year around."
This is the sixth consecutive year Garden Show Ireland has staged this unique horticulture event.
| | |
| --- | --- |
| | |
| Some pupils from Dromore High School enjoying the flowers in bloom at the launch. | Councillor Jenny Palmer, Chair Economic Development Committee, Lisburn City Council with Alderman Jim Dillon, Deputy Chair. |
Jenny Palmer, Chairman of Lisburn Council's Economic Development Committee, said: "The event attracts people from across Ireland and is even promoted further afield, truly placing Hillsborough on the world map.
"After such a harsh winter, and in a tough economic climate, the Garden Festival is a welcome weekend in spring with its array of colourful plants and fun activities for families."
New for 2010 will be demonstrations on creating stunning flower arrangements by international florist Richard Haslam. Claire Faulkner, Director of Garden Show Ireland said: "We are delighted to have Richard. He'll advise not just on how to make an arrangement look wonderful, but also which plants and flowers to grow to create it.
"The Garden Festival is a wonderful opportunity to pick up tips from the experts, and this year there is so much that is new. As well as welcoming back old favourites like the Garden Roadshow team and the Garden Gourmet, there are new specialist growers, and expertise on using your garden to keep bees and bantams as well as growing vegetables or how to create a herb garden in pots at the back door."
"Mind you, it's not just about gardening," said local businessman and sponsor, Brian Snoddon of Snoddons of Hillsborough. "This event is a unique festival. The atmosphere in the walled garden with the jazz, the cream teas and the locally produced foods as well as being able to stroll through the gardens of Hillsborough Castle and the village, make it a very special experience."
Parking is free and a special shuttle service is provided to and from the dedicated car parks from May 21 - 23.
Tickets are on sale now at www.gardenshowireland.com.
Ulster Star
23/04/2010