`INCREDIBLE COURAGE'
Lisburn soldier who risked his life three times is honoured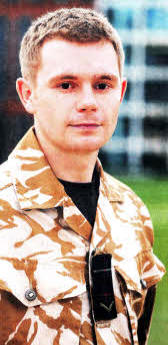 A SOLDIER from Lisburn has received one of the country's highest awards for bravery - the Conspicuous Gallantry Cross - after risking his life three times during a battle in Afghanistan.
Lance Bombardier Gary Prout (27) from the Fire Support Team of the Royal Regiment of Artillery received the honour, second in importance to only the Victoria Cross, for risking his life on three separate occasions, in an attempt to save a colleague during operations in Afghanistan in March last year.
The citation reads: "Prout consciously risked his life, on three separate occasions, and it was a miracle that he himself was not killed. He displayed the most incredible courage."
Gary, a former pupil of Laurelhill Community College and the fourth generation of his family to serve in the military, was modest about his actions in Afghanistan.
"We patrolled down into an area we knew was full of the enemy," he explained. "I set up a position on top of a roof so I could call in the artillery if needed.
"One of the sections pushed further forward than us. They got to the far side of the building and I heard a loud explosion. I had agreed with my boss that I would assist with the casualties because I had been in Afghanistan before. I pushed forward and it was a very heavy situation. When I got there I saw someone lying on the ground and got angry that he was lying in the open. I took hold of him and got him under cover. It was only when they started working on him that I realised it was my best mate from that company, Lance Corporal Chris Harkett. It wasn't long after that the field ambulance came down and we managed to get him onto the vehicle and extricated.
"I had to get back to my artillery team to call in the strike," he continued. "Instead of cutting along the wall with coverage I ran across the open ground arid got onto the radio."
But the ordeal was far from over. The soldiers realised there were too many of them for the evacuation helicopter and Gary, with six colleagues, volunteered to stay on the ground.
"We volunteered to remain because we carried the most firepower" he said. "As the rest were extricated I called in a smoke mission to give us some cover."
Eventually Gary was extricated from the life-threatening situation. However, that was not the end of the story, or his bravery. "When we got back we realised there were some artefacts of Lance Corporal Harkett's left behind," continued Gary. "I volunteered to go back down into engagement to help retrieve them and got into another big scrap.
As cold as it sounds you just have to stay calm and get your act together."
It was with mixed emotions that Gary received his medal, because his friend, Lance Corporal Harkett, did not survive the attack.
"It was a total shock," he said. "It was a bit of a whirlwind. We are really proud of the award but I don't want to celebrate because Chris was killed. I have very mixed emotions and my mum is finding it very hard to understand that Chris didn't make it home. "I was just doing what I had to do," he added.
julieann.spence@ulsterstar.co.uk
Ulster Star
02/04/2010