Bereaved family dealt another blow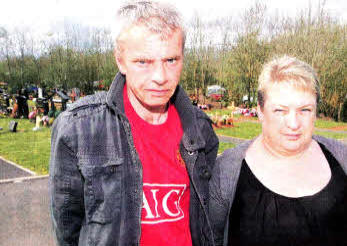 THE FAMILY of a man who drowned in the River Lagan three weeks ago say they have been dealt another blow after grave diggers disturbed their grave during a visit.
Last Wednesday morning Joy Haydon went to visit the grave at Blaris New Cemetery of Glen Carey (37). Glen, Joy's youngest brother, died in tragic circumstances. His body was discovered in the River Lagan some weeks ago.
Joy from Woodbrook Avenue, off the Ballinderry Road was with her mother Kathleen and sister and found the grave covered with a large wooden box. Grave diggers had placed the box on top of the grave to move soil from another grave. They also had removed all the wreaths from the grave and placed them on the ground.
Joy said: "If there had have been no other place to put the box we would have understood but there was plenty of space beside the grave and behind it.
"My mother was left absolutely distraught. As a family we are still grieving and for my mother to see her son's grave in that state was just unforgiveable.
"My mother lived with Glen in Ballymacash has not been out that much since his death. She is still coming to terms with his death and the incident left her in tears. She totally broke down. It was very upsetting. "To see a wooden box with soil on it on her sons grave. It was just awful." Joy added: "I would hate another another family to have to go through what we saw."
A spokesperson for the council said: "Lisburn City Council has been using a standard procedure for digging graves for many years. Although this is a normal working practice in cemeteries the Council regrets any annoyance or distress that this process may have caused to family members visiting an adjacent grave during grave digging operations."
Ulster Star
07/05/2010