Good News Week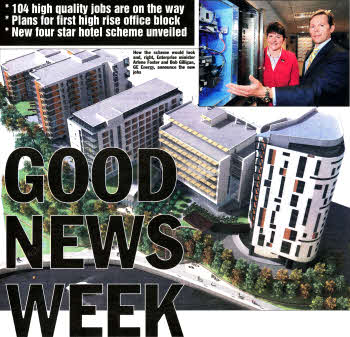 AFTER months of economic gloom, Lisburn got a triple dose of good news this week with 104 new high quality jobs, plans for the city's first high rise office block and details of a new four star hotel.
The jobs are being created by GE Electric at the Kelman plant in Lissue Industrial Estate in a multi-million pound investment backed by the IDB. It is estimated the jobs will generate £2.5million annually in additional salaries.
The office block, apartments and hotel are set for the Laganbank Road. The scheme is the brainchild of one of Northern Ireland's most successful development companies, Killultagh Properties.
They want to create 40,000 sq ft of office space, 80 apartments, 300 car parking spaces and a 150 bedroom four star hotel in the heart of the city centre.
The developers also plan to open up the River Lagan Corridor and include public realm space in the development. They say they have already had interest from two hotel operators. 
Over 100 new jobs created in Lisburn
by JULIE ANN SPENCE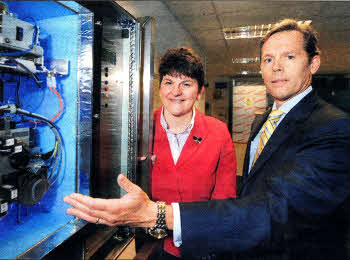 OVER 100 high end jobs are to be created in Lisburn following this week's announcement by GE Energy they are to make a multi-million pound investment in Kelman Ltd.
In 2008 global energy company GE took over Kelman, which was founded by local man John Cunningham in 1994. This is the first major investment in Lisburn by GE since the takeover, however the company's Digital Energy Business Vice President Bob Gilligan said it would be just "the first milestone on the journey."
Invest NI has offered £981,000 towards the project which will create 104 high quality jobs, generating £2.5million annually in additional salaries.
Positions will include advanced manufacturing, research and development and technical support roles and will draw on disciplines such as mechanical and electrical engineering, chemistry, physics, software and computer sciences.
GE says it intends to manufacture a range of existing and highly innovative new products at the Lisburn site at Lissue, alongside Kelman's existing manufacturing operations. GE will also establish an online operating centre to provide a new monitoring, diagnostic and technical support service to customers utilising the company's monitoring equipment.
Making the announcement Enterprise Minister Arlene Foster said: "GE is a well established and globally renowned company which, for more than a century, has pushed the boundaries of energy technology to become a market leader. This significant investment reflects GE's confidence in its Lisburn operation and in the quality of the local workforce.
"Since acquiring Kelman in 2008, Invest NI has worked closely with GE to maintain and grow its presence here. The success of this is clearly evident today. Generating almost £2.5million annually in salaries to the local economy, this investment is a welcome development for the manufacturing sector and the local economy. I am certain that it will lay a solid foundation for future innovation, by GE in Northern Ireland."
Speaking at the Lisburn site on Wednesday, Bob Gilligan, said they had been "very impressed with the willingness and ability of the Lisburn workforce to embrace and contribute to the positive changes in manufacturing and general working practices introduced post acquisition.
"In acquiring Kelman we at GE recognised the inventiveness and innovation embedded in the company's ethos and, through this investment, we are laying the foundations which will allow us to build further on the capability of our NI team and to make a significant contribution to our overall global business success. We look forward to developing further our relationship with NI's research and supply chain base."
---
Kelman news `massive vote of confidence in Lisburn'
LAGAN Valley MP Jeffrey Donaldson said the announcement was a "massive vote of confidence in Lisburn and the surrounding area."
He added: ' I am pleased that the Northern Ireland government had a role in creating the circumstances in which GE made this decision. This shows the positive nature of devolution: local people standing up for local interests and attracting much needed investment to our community. I have been working with my colleague Arlene Foster on this project and want to thank her for her involvement in the positive news."
The Mayor, Cllr Allan Ewart, said the news was evidence of the continued success of a local company
The fact that the organisation's headquarters in Lisburn has been chosen for the company's planned expansion demonstrates that Lisburn continues to be a fast-growing, competitive City" he said.
MLA Trevor Lunn also welcomed the news, saying: "It's great to see these new jobs being created and it is particularly important given the difficult economic times Northern Ireland finds itself in. Lisburn has a highly skilled and hardworking workforce and this excellent news is a real tribute to the area and to the company."
Another MLA, Jonathan Craig, said: "This demonstrates the benefit, once again, of having a local Minister in charge of creating jobs and bringing investment to Northern Ireland. These jobs will go a long way to provide good employment for people and represent an indication that Northern Ireland is fighting back the shadows of recession."
Councillor Brian Heading said the news was "fantastic" for the local economy and added: "I hope those recruiting for these new posts will target people in areas of high employment and social deprivation including Dunmurry Cross where job opportunities are currently very limited."
`Lisburn set for the 21st century'
PLANS FOR CITY CENTRE DEVELOPMENT REVEALED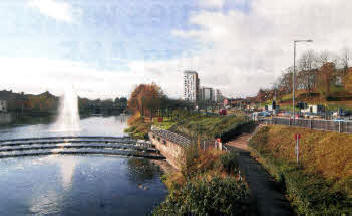 MAJOR plans by one of Northern Ireland's biggest development companies for apartments, offices, restaurants and a hotel in Lisburn city centre have been revealed this week.
Architects Colin Gibson and Peter Minnis from Todd Architects and developers Killultagh Properties attended a meeting of Lisburn City Council's Planning Committee to unveil the scheme which could see 40,000 sq ft of office space, 80 apartments, 300 car parking spaces and a 150 bedroom four star hotel right in the heart of the city centre at Laganbank Road.
The developers also plan to open up the River Lagan Corridor and include public realm space in the development.
Mr Minnis explained that the project was in the pre-application design phase, which was nearing completion, and they hope to submit a planning application in the coming months.
Mr Minnis also confirmed there were already two hotel operators expressing serious interest in running the hotel on the site and revealed the apartments would be the first tower block in the city centre, standing 15 storeys high.
The proposals were welcomed in principal by Lisburn Councillors, but Councillor Jenny Palmer and Alderman Jim Dillon expressed some concern about the scale of the apartment block and the impact it would have on nearby housing.
However Alderman Jeffrey Donaldson said the new development would bring benefits for the city. "We need to look beyond the horizon for the city," said Mr Donaldson. "We do have an historic city but history and modernity can sit side by side.
"When you think of a city you think of tall buildings and if Lisburn is to be a city for the 21st century then tall buildings are what would set the city centre apart. We shouldn't be frightened about having tall buildings in the city centre.
"I think we should welcome in principal the development but await further discussions on the detail."
Councillor Margaret Tolerton said she "couldn't wait" to see the development realised and Councillor Paul Givan added: "These proposals are very exciting for Lisburn. I am very pleased to see this coming forward. Ultimately we will want to see this be successful. It is the key to driving forward the city centre."
Councillor Jonathan Craig suggested the office block could become the new home for the city's health centre, while Councillor Andrew Ewing welcomed the idea that the bottom floor of the office block could house new restaurants, which, he said, would help to boost the city's night time economy.
Councillor Trevor Lunn warmly welcomed the development proposals saying: "I any very much in favour of this scheme. This is a very exciting private sector scheme."
Following the presentation the committee agreed to "welcome the presentation made, note the detail of it, welcome it in principal and look at the planning application when it comes before us."
julieann.spence@ulsterstar.co.uk
Ulster Star
14/05/2010