The miracle baby who survived against all the odds
by MARY MAGEE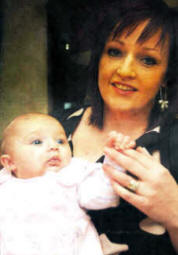 THREE-month-old Hannah Ferguson is a little miracle who has survived against all the odds.
Thanks to the quick actions of doctors at Lagan Valley who delivered her and a pioneering new system at the Royal Children's Hospital little Hannah is now a perfect bouncing baby girl.
But it all looked very different when Hannah from Portmore Lea in Ballinderry was born I2 days overdue, on November 20, 2009 at 8.55am in the Lagan Valley. Because of complications with her blood supply she was delivered by an emergency caesarean section. As soon as she was born doctors had to resuscitate her and while mum Julieann was still in recovery she was told her baby had been taken by ambulance to another hospital and warned her chances of survival were slim.
Hannah went to the Ulster Hospital where she was given blood and then onto the Children's Hospital at the Royal.
Julieann and her husband Cohn were asked to call their family and have them gather at the Children's Hospital.
"Everyone was very upset as you can imagine" said Julieann.
When Hannah got to the Royal she was given pioneering treatment that Julieann believes almost certainly saved her life.
At 5pm Julieann was told she could finally see her baby for the first time. Hannah was on a ventilator and a heart and oxygen monitor. She was then taken to the neo natal unit and put in a cooling system - a pioneering treatment where she was put in an incubator and her body temperature lowered for two hours and then gradually raised.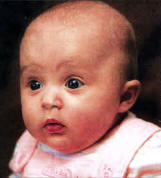 Against all expectations Hannah survived despite a few seizures in the incubator and made a full recovery. After I2 days she was allowed to leave and a brain scan at the Ulster Hospital gave the all clear.
Julieann, also a mother to two year old Junior, was so grateful for everything the Royal did that she wanted to raise money for the neo natal unit.
A Stars in their Eyes event was held by the members of the Aghalee Flute Band at the Ballinderry Memorial Hall which raised £I800.II. "I have no doubt that the cooling system that was used at the Royal helped save Hannah," Julieann said. "I would also like to thank the doctor at Lagan Valley who spotted what had happened and took immediate action. i just do not know how I can thank her enough. Thanks to them she is a healthy perfect beautiful baby girl." Hannah still goes for physiotherapy and sees a paediatrician at the Ulster Hospital for regular checkups.
Julieann added; "She is a real fighter and all the doctors I have spoken to cannot get over what she has come through and survived.
"I just look at her every day and think that she is such a miracle. It is just so unbelievable and we are just so blessed. There is no other word to describe it. We know just how lucky we are to have her."
Julieann and her husband would also like to thank all the organisers of the fundraising night including Tommy Heasley who acted as DJ.
Ulster Star
19/02/2010