Parents' Group presents cheque to Harmony Hill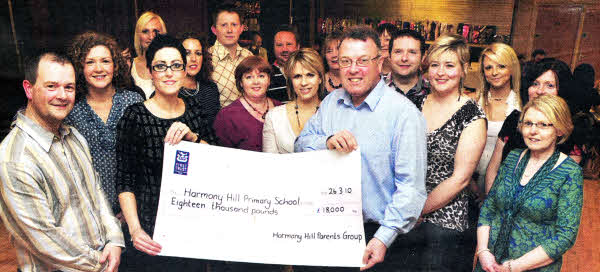 Chairperson Paula Johnston of Harmony Hill Parents Group hands over a cheque for £18,000 to principal Harry Greer US1310-410PM Pic by Paul Murphy
THE Parents' Group at Harmony Hill Primary has presented the school with a cheque for £18,000.
The money raised through craft fairs, disco nights, ballots, recipe books and numerous other events was handed over to school Principal, Harry Greer recently.
The money will be used to assist with high quality outdoor play equipment and learning resources for Literacy and ICT which will benefit every child in the school.
A delighted Mr Greer commented: "This is a fantastic effort by our parents but it is also typical of the excellent support the school enjoys. Parental support is such a crucial part of every child's school life and our parents deserve great praise for the key role they play.'
Ulster Star
02/04/2010