New lease of life as Heidi receives specialist bike
by STACEY HEANEY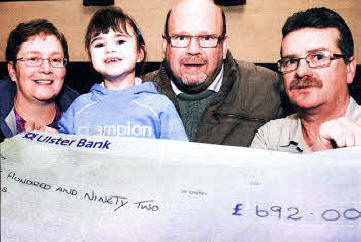 LITTLE Heidi Joss has been given a new lease of life by generous locals who donated a magnificent £2,306 to buy a specialist bicycle for the Lisburn girl who has Cerebral Palsy.
Four-year-old Heidi, who will celebrate her fifth birthday on Tuesday, received an extra special present of a new bicycle from Santa on Christmas morning.
Having been rushed through from the manufacturers in England, via the North Pole of course, Heidi's three wheel bike, which includes protection for her hips and arms and straps around her waist and chest to keep her in place, brought joy to the little girl who would otherwise not have been able to have a bike.
The Fleming Fulton pupil's mum Diane was delighted to have received so much support from local people, who donated money towards the bicycle.
Diane commented:" I couldn't believe how generous people were, everyone has been amazing.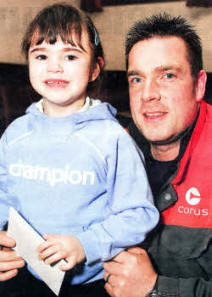 "I knew Heidi wanted a bike, but when I spoke to her physiotherapist at school they said she would need a specialist bike which costs over £1,000."
Having realised the cost of Heidi's bike, Diane decided to take part in a sponsored walk to try to raise some funds toward it. She explained: "I thought I'd do a sponsored walk and my friend, Margaret McCormick, said she would do it with me. However, friends of ours kept hearing about Heidi's bike and they donated funds to us or organised events, I absolutely couldn't believe it.
"We actually went over our quota and we will be using the rest to buy specialist swings for Heidi for the summer. You don't get swings suitable for disabled children in parks, so this will allow her to play; it's amazing."Diane and Maragaret got their
walking shoes on, taking part in a sponsored walk from Belfast to Lisburn on December 5, whilst members of the Lagan Valley Pigeon Club raised funds through fundraising nights, the Church of Ireland in Magheragall donated funds and friends of the family all donated money towards their appeal.
Diane added: "Heidi has weaknesses down her right hand side and her bike has been made especially for her to protect her and allow her the freedom to use the bike herself. We have only gotten one good day with the weather but she took off on it so quickly, she will really enjoy it."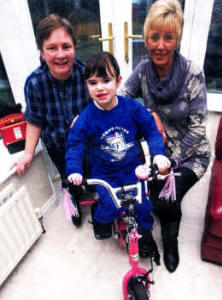 Members of the Lagan Valley Pigeon Club raised a fantastic £692 towards Heidi's bike through a series of fundraising nights and a ballot in the club.
Lagan Valley Pigeon Club's Eddie Adams commented: "We wanted to help in anyway we could. We are pleased with the amount of money raised by the members of the club and I would like to thank those who donated. We're delighted to help the family purchase this much-needed bike."
Robert Gore, who kindly donated £100, which he had won through a weightloss competition at Corus, said: "I know Heidi's father through the pigeons and I thought this was a very worthwhile cause. I would like to thank all of those who took part in the competition at Corus, we all lost weight so it was worthwhile to everybody."
Diane, who said the bicycle would give Heidi a "new lease of life", concluded: "I would just like to say a big thank you from the Joss family to everybody who donated, it is really appreciated."
stacey.heaney@ulsterstar.co.uk
Ulster Star
15/01/2010