Big Telly brings haunting production to Lisburn's Island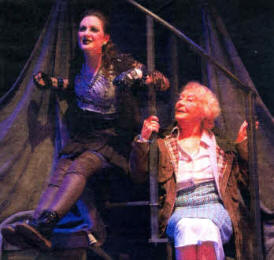 BIG Telly Theatre Company's Irish Tour of their compelling production The Haunting of Helena Blunden opened at the beginning of February and has received standing ovations at each of the five venues it has played so far.
The production will be coming to Lisburn's Island Arts Centre on Wednesday March 24 and tickets for the show are on sale now.
Directed by Big Telly's Artistic Director, Zoë Seaton The Haunting of Helena Blunden is a thriller set in a derelict Belfast Linen Mill and puts a family on trial to account for the choices they've made. On a dark Halloween night, the musical ghost story draws to its doors four people with secrets. A mother from a home. An estranged father and a lost son. A daughter and the ghost of a young girl.
All searching for something. Their paths cross and interweave to reveal a dark family past where even half-forgotten melodies can take on an unforeseen significance.
The beautifully haunting musical ghost story brings together the creative partnership of Bernie McGill as playwright and Paul Boyd as composer.
This production will be the 34th from award -winning Big Telly during its 23 year history. Armagh's own Karl O'Neill (best known for his role in RTE'S Fair City) takes the role of Michael, Belfast's Roisin Gallagher takes the title role of Helena supported by Charlotte McCurry in the role of Susan, and dame of the stage Helena Bereen (most recently seen on our screens in Mo) as Maggie.
For further information or to book tickets for the show, priced £12.5019.50, contact the Island Arts Centre Box Office on 028 9250 9254.
Ulster Star
19/03/2010