Good year for Hillhall YFC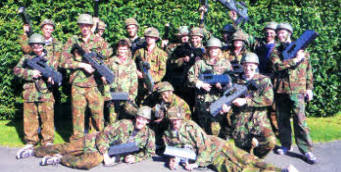 HILLHALL Young Farmers had a brilliant start to 2009 having a full and different programme.
The year began with the club day out to the Share Centre, Lisnaskea, the activities included Banana boating and laser skermishing which showed out some of the sharp shooting and army instincts the members had.
The first club meeting was a games night at the Braniel Hall, complete with a BBQ all be it some of the sausages were a bit burnt. The following meeting was a trip to the air soft at Dundonald, even though it was anticipated to be sore, everyone was up for it and got stuck in, leaving a little more bruised than when they'd arrived.
In the run up to Halloween the club had a themed meeting were they carved pumpkins, bobbed for apples, made chocolate apples and generally just made a big mess, which led to much discussion as to who would he cleaning up.
The next meeting was a visit from Chris Ferguson of The Country Kitchen Lisburn, Chris gave a demonstration on cooking bread and spoke about the baking industry and his recent trip to the world baking games with Ireland. Chris also showed the group how to make a Black Forest Gateau and let three members also have an attempt.
Not content with just baking the club visited Aunt Sandra's sweet shop, which left some members bouncing of the walls due to the sugar. The Final club meeting of the year was a night to unwind, just enjoying a film namely "Blades Of Glory".
Amidst this busy schedule there was also time for some competitions and a day out, the club was very successful in the Public Speaking, particularly as Philip Poots (a new member only this year) was placed second in Northern Ireland.
Ulster Star
15/01/2010