Lisburn siblings go walking to say thank you to hospital staff
CHICKEN POX PUTS YOUNGSTERS INTO ISOLATION WARD AT HOSPITAL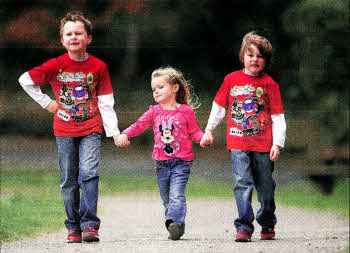 THREE young Lisburn siblings, Christopher, Alexander and Abigail Hillis, put their walking shoes on last weekend to raise funds for the Belvoir Ward at the Royal Victoria Hospital's children's unit where two of them spent time in the isolation ward last year after developing chicken pox.
Alexander took Chicken Pox in October 2009, and just two days after he left hospital Abigail ended up in the same room at the hospital, struck with the same condition. Mum Cheryl said: "We didn't set a target of how much we wanted to raise, we have just been asking family and friends for donations to say a big thank you to staff at the hospital for their help. Both Abigail and Alexander were in the isolation ward and the money raised will buy toys for the children in the ward, as the toys can only be used for once for each child."
Alexander, 5, and Abigail, 3, completed the 1.5 mile trek around Hillsborough lake last Saturday, alongside their brother Christopher, 7, who also had Chicken Pox two weeks before his brother and sister took ill.
Cheryl explained: "Both children took Chicken Pox within a week of each other with Alexander being in hospital from Tuesday until Saturday, before Abigail took ill two days later, ending up in the same room as her brother from Monday until Thursday.
"I had no idea Chicken Pox could be so dangerous. My husband Richard and I were doing shifts, with a midnight changeover, so we were all out of sorts."
Speaking about last weekend's walk, which she took part in with her three children, Cheryl said: "The walk was brilliant. Abigail had never done the walk before by herself, she has either been on my hip or in a pram but she did make it right round. It was a beautiful morning, so it was very good."
The family have raised £100 so far and Cheryl is hoping to have raised a total of £150 by the time all of the money comes in.
"Every little bit helps," she said. "It will allow us to buy small toys, which are maybe only a couple of pounds each, such as Lego bags and colouring pencils."
Whilst his brother and sister were in hospital, seven-year-old Christopher was at home, having himself had Chicken Pox two weeks before.
Cheryl said: "He kept asking, 'where's my mummy?', 'where's my daddy?', so he was out of sorts as well; it was very difficult.
"Both boys are in Pond Park Primary School and the school was very good, giving work into hospital for Alexander. Between being ill and with the run-up to Christmas, both boys did suffer a little bit at school, but Pond Park have a scheme called 'Super Kids', where two children in each class are named Super Kids and Christopher got it in February and Alexander got it in March because they got back to the top of the class."
Cheryl added: "The hospital staff were fantastic, nothing was a problem. They have a little kitchen where I could leave food for myself in the fridge and then make it, they also had shower and toilet facilities for me and they put a bed in the room beside the children so I could be with them; the staff were excellent."
stacey.heaney@ulsterstar.co.uk
Ulster Star
30/04/2010