Unionists have nothing to fear from deal insists Poots
`Sleepless nights but worth it in the end' says Lagan Valley MLA
by JULIE ANN SPENCE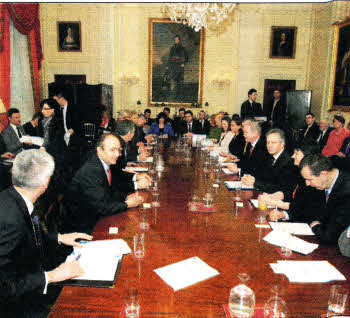 LAGAN Valley MLA Edwin Poots, who was part of the negotiating team which hammered out an agreement in Hillsborough on the devolution of policing and justice, has said he is "more than confident" about selling the deal to the public and has insisted unionists have "nothing to fear".
Following long days and sleepless nights, a deal was finally struck last Friday which maps out a way forward to enable policing and justice powers to be devolved to the Stormont assembly.
This week Mr Poots said he was happy with the outcome, particularly considering the starting point, which had been "totally unacceptable. '
Mr Poots said a number of issues had to be resolved during the lengthy talks at Hillsborough Castle.
" The first was the independence of the Chief Constable and the Lord Chief Justice" he said. "In terms of operational duties, those remain with the Chief Constable and he will continue to report to the Policing Board. The Lord Chief Justice will be responsible for appointing judges with no political interference.
"In terms of the Justice Minister himself, he will be responsible for quasi judicial decisions and issues that will come to the Assembly will relate to legislation."
The issue of parades also proved to be difficult, however Mr Poots said: "There is nothing for unionism to fear."
He continued: "I don't think every contentious parade will end up in a parade taking place but I do think better decision making processes will be put in place. I don't know what parades will or won't take place but we need a new and improved framework which will do away with the Parades Commission to give better accountability and fairer decision making."
Mr Foots also pledged that meaningful consultation on the deal would be carried out and local people would have a chance to have their say.
"There needs to be a widespread consultation process so that communities have the opportunity to have their say. It needs to be done in a professional way that allows people safely and independently to identify what their issues are."
Despite concerns being expressed by other political parties, Mr Poots insisted he was "confident" about the deal and was anticipating everyone would "operate in good faith." He added: "Having got to this point it would be very foolish for them not to reach an agreement."
He said he believed the deal would also allow the Executive to operate better and enable the Assembly to concentrate on issues of importance to local people, including heaiteh and education.
"At a personal level, for three nights I got two hours sleep each night," concluded Mr Poots. "It was tough going but after starting from a difficult negotiating position to finding something acceptable, it was worth it."
---
`The DUP have betrayed people of Ulster' says TUV's Calvert
TUV Alderman Cecil Calvert has accused the DUP of 'betraying and deceiving' the people of Ulster in the Hillsborough agreement. Mr Calvert said they had spoken of their 'shared belief in the importance of working together in a spirit of partnership' while excluding the UUP, the SDLP, and Alliance from the talks.
`Any unionist who accepts IRA/Sinn Fein into any government is a traitor to the cause of Unionism" he said. "The IRA/Sinn Fein went into these talks with these aims; Firstly, to get a date for transfer of police and justice, and because of the weakness of the DUP they achieved their aim. What a shame what happened - the I4 strong men in the DUP rolled over like snow men." "Secondly - a veto in the executive and every piece of justice and legislation and funding.
"Thirdly - a working group to ensure enhancement of the Irish language.
"Fourthly, work on the case for additional bodies and areas of co-operation within the North South Ministerial Council.
"Fifthly progress on the establishment of a north south parliamentary assembly.
"Sixthly work on establishing a North South civic forum - a working group to recommend progress on a single equality bill - a long standing IRA demand."
He said: "The DUP got a review of a review of the Parades commission. The Parades Commission still stands. No mention of a standown of the IRA Council - demanded by the DUP at previous talks.
"Our education system is still in chaos. I cannot see anything in this deal that is good for the people of Northern Ireland. The DUP deceived the people of Ulster at the last Assembly election but they surely will not at the next one."
julieann.spence@ulsterstar.co.uk
Ulster Star
12/02/2010