Salto ace India wins top award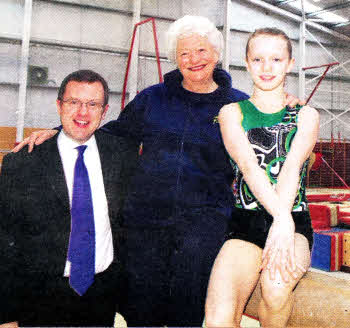 FOUR hours of strenuous training, six days a week - that's the programme of dedication that has made India McPeak, a member of Lisburn's Salto Gymnastics Club a winner in a campaign to encourage sports stars of the future.
And 14-year-old India now gets £400 in the Emo Sports Awards, sponsored by the leading Northern Ireland oil company in partnership with the Mary Peters Trust.
Her scores have steadily improved in the four exercises in artistic gymnastics - floor, vauite, asymmetric bars and beam -and she has a busy list of events ahead.
She is now almost certain to be in the Ireland team for the European Championships in Birmingham at the end of April. The UK School Games are in September at Tyne and Wear, and the women's Northern European Championships in Finland in November.
India, a student at Regent House School in Newtownards, was a member of the Rathgael club in
Bangor before moving to Salto, where her coaches are Kim Kensett, Sun Jie and Clare Taylor.
It can be tiring, but I really enjoy all the gymnastics," says India. It was very frustrating, though, around the turn of the year when I had a knee injury. "I was restricted to conditioning and stretching exercises for about two months, but now I'm fully fit again.
"I'm particularly glad that the Emo award is in partnership with the Mary Peters Trust, for Dame Mary is president of the Saiteo club."
* Can you be a winner like India? The Emo Sports Awards in partnership with the Mary Peters Trust are open to young sportsmen and women from the age of 12. You can nominate yourself or apply through a parent, coach, club or governing body. Full details from governing bodies or on the trust website: www.marypeterstrust.org
Ulster Star
12/03/2010