Sorrow at sudden passing of Guild founder member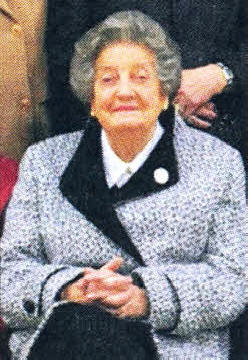 JUST a week after celebrating 100 years of the Girl Guides, one of the most senior members of the South Antrim Trefoil Guild passed away suddenly this week. Iris Levett, who had been one of the founding members of the South Antrim Trefoil Guild, had been a guest at a special service held recently at Christ Church to celebrate the anniversary and helped to cut a special cake to mark the occasion. She then travelled to London with her sister for a family event before returning to Lisburn on Monday (March 8), only to discover her home had been broken into. She spent the night nearby with family but was taken to hospital with chest pains and died suddenly the following day (Tuesday). Doctors have said they do not believe her death was a result of the shock of the break in to her house.
Mrs Levett's only daughter Carole said her mother, who would have been 85 on Mother's Day, had led a busy, fulfilled life. "She was born and bred in Lisburn and was baptised and married at Railway Street Presbyterian Church," explained Carole. "She was in the Guides and a volunteer nurse with the Red Cross. She later joined the Trefoil Guild and really loved it. "When my father died 13 years ago she really threw herself into everything. She was a very outgoing person and that kept her going.
"Her death was a shock for the whole family but it was the best way for her to go. Her heart just stopped, she was in no pain or discomfort.
"She had a very satisfied life and enjoyed remarkably good health. It is only now I realise how many friends she had as well." The chairman of the South Antrim Trefoil Guild, Iris Andrews, paid a warm tribute to Mrs Levett, saying she was 'larger than life. She was a larger than life member who took part in everything," she said. "We are all very shocked at her passing and she will be very sadly missed.
"She took part in every activity, she always had lots of ideas and was very forward thinking," she added.
A Service of Thanksgiving for the life of Mrs Levett will be held in Roselawn Crematorium on Saturday (March 13) at 10am. Donations in lieu, if desired, to Chest, Heart & Stroke Association, c/o Bobby Morrison Funeral Director, 38 Hillsborough Road, Lisburn, BT28 IAQ.
Ulster Star
12/03/2010