Jacqueline takes to the water for charity
by JULIE ANN SPENCE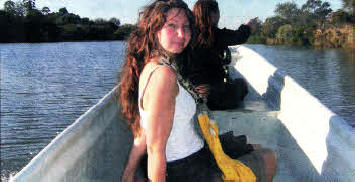 Jacqueline on the Lufupa River, Zambia July 2009 that regularly suffers drought conditions that are expected to worsen with climate change. This river system, also a tributary of the mighty Zambezi inavertedly supports millions of Zambian's personal survival and livelihoods through fanning, cattle keeping and fisheries.
LOCAL girl, Jacqueline Gibson, canoed along the Lagan River this week from Dromore to where it flows into Belfast's City Centre.
She started the journey on December 21 and, weather permitting, is hoping to reach the finish line on January 1.
Jacqueline is hoping to raise funds for 'Water for Kids', a charity that provides clean and accessible water for Children in Kenya, Malawi and India.
"I want to raise environmental awareness on the whole at the is time of year, with over consumption of food, goods and associated packaging, materials, energy for processing, transport and even the water needed to make that product," explained Jacqueline.
"In the UK, with water so plentiful, we tend to think we don't need to conserve it.
"Nearly all the water we use for cooking, cleaning, washing, drinking and flush away comes from processing plants that use energy, not to mention the energy needed for the plant machinery, equipment, materials and chemicals processing."
She continued: As Sustainability Coordinator with Graham Construction, conservation is something dear to my heart, and as Zambia is my second home, I felt it very apt to help this particular charity and our environment at the same time.
"Canoeing is also a real environmentally way to see our rich and beautiful countryside away from all the noise of traffic, people and industry."
Setting off at 6.30am in a Canadian canoe, passing through various farmland, wetland and woodland habitats, she will have to contend with larger weirs, guaranteed to get her wet.
If you would like to donate or seek additional information, please visit the following web link - www.justgiving.com/Jacqueline-Gibson.
julieann.spence@ulsterstar.co.uk
Ulster Star
01/01/2010