`Thanks for all your support'
'WE CAN'T WAIT TO COME TO BELFAST' SAY AWARD WINNING JLS AFTER ANOTHER AMAZING WEEK
by STACEY HEANEY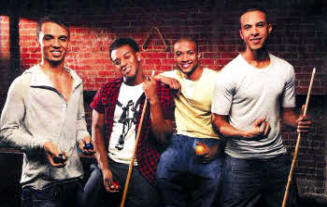 JLS cemented their position as Britain's biggest boyband this week with a stunning double win at the Brit Awards on Tuesday night.
And there were special celebrations in Dunmurry where band member Aston Merrygold's family hail from.
The band, Aston, Marvin Humes, Oritse Williams and Jonathan 'JB' Gill, will be hitting Belfast at the end of the month for a three night stay at the Waterfront Hall; their longest run on their debut tour outside of London.
Taking time out from their tour, band member JB Gill spoke exclusively to the Star last week ahead of their first headlining performance in Northern Ireland.
Speaking to the Star, JB commented: "The tour is going really well. We've been wanting to do this for a long time so we are taking it in our stride and having fun. We can't wait to come to Belfast, it's going to be good. Belfast has the most nights that we are doing on the tour outside of London so we've had a great response from the people of Northern Ireland."
The group added to their magnificent career so far when they picked up two Brit Awards on Tuesday night, winning Best Breakthrough Act and Best Single.
JB had said the band were "nervous and excited" ahead of the show, and he was quick to thank those who voted for the group as he accepted the awards, saying: "Wow...we can't believe that we're here right now and we want to thank every single one of you guys for supporting us."
The band will certainly be seeing plenty of their local fans this year with their three night stay at the Waterfront Hall, which will see Aston's Dunmurry-born family descend on the local area, as well as being the support act for Westlife's concert in Croke Park this summer, where they will perform in front of 85,000 Irish fans, and a date planned at the Odyssey Arena in January 20II.
JB said JLS were looking forward to the year ahead, with the prospect of a second album in the pipeline and a major arena tour to plan.
JB stated: "We'd love to release an album later this year, but we have to make sure the songs are right and that everything is right before we do it. With the first one, we worked really hard on it to make sure it was perfect. It is very important to get the album right, we would love to write and release another album but it is very important to get the balance right, it is about getting the right combination. Our first album has sold over a million copies and that is a big target to beat, but the goal should always be to beat what you have achieved."
Referring to their forthcoming arena tour at the end of this year, JB said: "We are looking forward to it, absolutely. We are doing some of the smaller arena's on this tour and that will give us a bit of a taste for the full arena tour, we are really excited." The band will be releasing their third single, 'One Shot' on Monday (February 22), however, whilst they would love to achieve their third number one single, JB said that their chart position pales into insignificance in comparison to the success of the Help for Haiti charity single 'Everybody Hurts', which features the band and is currently at number one, raising funds for the devastated nation.
With band member Oritse Williams having lost family members in the disaster, JB said that it is a cause close to their hearts.
"It is a fantastic cause and it shows how many people are willing to come together to help. Hopefully the single will do what it is planned for and help people to get back on their feet. For people to lose family members and lose their homes, everything they have; it is absolutely devastating." Sending a message to the band's local fans, JB stated: "I want to give a big, big shout out to all our supporters in Lisburn and Belfast for showing us the craziest love. We've had three nights sell out there on the tour which is incredible and we'll bring something exciting to our fans later this month.
"To those who can't make it this time, hopefully they can come along to the arena tour next year and we'll see you all soon."
stacey.heaney@ulsterstar.co.uk
Ulster Star
19/02/2010