John completes London marathon to raise £9,299 for epilepsy action
`A brilliant occasion I'll never forget'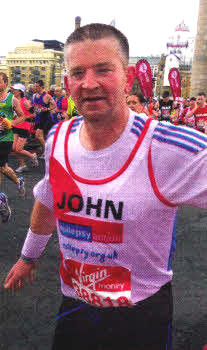 LISBURN man John Torrans fulfilled one of his long held ambitions last Sunday when he completed the London Marathon in just over four and a half hours in aid of Epilepsy Action.
48-year-old John, who ran the marathon in memory of his friend Ronnie Hooke, who sadly passed away from cancer aged just 42 in March 2009, has raised a magnificent £9,200 for the charity, with the possibility of more money still to come.
Keen sportsman John, a member of Derriaghy Cricket Club and a former player with Derriaghy Football Club, selected Epilepsy Action as his chosen charity as Ronnie's 15-year-old daughter Sarah has Epilepsy and has been in and out of hospital throughout her young life.
John, who describes the charity as "a tremendous cause", threw himself into training and fundraising, achieving more than he imagined possible when he raised over £9,000.
"It was a good day and a fantastic adventure" said John. "It's just completely different; something I'd recommend for anybody to do once, even just to watch it. The crowd were fantastic the whole way around, they were lined from start to finish cheering you on. Particularly when you were getting tired, the people push you on and keep you going."
John, who completed the marathon in 4 hours 35 minutes, said: "For the first 15 to 16 miles I was enjoying it and was fairly relaxed but it was inevitable I was going to hit a wall."
Following the run, John joined fellow runners at a hotel in Leicester Square where Epilepsy Action held a reception to celebrate their achievement.
John commented: "Epilepsy Action really looked after all of the runners. They had food and drinks and shower facilities for us. It was very professional and they really look after the runners." John's Just Giving site still active, so it is possible more funds could come in. He added: "I can't thank people enough, everyone who contributed to the charity. It is an incredible amount. I'd like to pay tribute to people from the area, work colleagues, family and friends; it has been a fantastic effort. "It was just a brilliant occasion to be involved in; I'll never forget it," he concluded.
Philippa Cartwright, fundraising events manager at Epilepsy Action, said: "We'd like to say a huge thank you to John and all his supporters. To raise £9,200 is a fantastic achievement. The money raised by John and all our marathon runners is vital in helping us support the 456,000 people with epilepsy in the UK."
Everyone at Derriaghy Cricket Club sent their congratulations to John on his achievement. A spokesperson for the club said: "We would like to say a big thank you to everyone who contributed to his fundraising for Epilepsy Action.
"I'm sure that before long all the months of training, injuries and painful times he endured will be forgotten and he will be looking forward to his next challenge, whatever that might be."
stacey.heaney@ulsterstar.co.uk
Ulster Star
30/04/2010