John's `marathon' challenge or Epilepsy Action
by STACEY HEANEY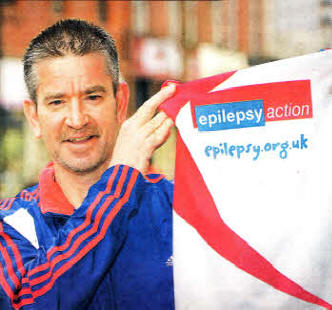 Keen sportsman to pound the streets of London for cause close to his heart
LISBURN man John Torrans has set himself a 'marathon' challenge to raise funds for Epilepsy Action by taking part in the London Marathon for the first time next month.
48-year-old John will take to the streets of London on Sunday April 25 alongside thousands of fellow runners, to raise vital funds for a cause close to his heart.
Sportsman John, a member of Derriaghy Cricket Club and a former player of Derriaghy Football Club, will run the marathon in memory of his good friend Ronnie Hooke, who sadly passed away from cancer, aged just 42 in March 2009.
Ronnie s 15-year-old daughter Sarah has Epilepsy and has been in and out of hospital throughout her young life. Sarah, whose seizures are currently under control, was chosen to go to Great Ormond Street Hospital to see if she would be a suitable candidate to try to stop the seizures completely but unfortunately this was unsuccessful. However John, who has previously run the Great North Run for Epilepsy Action, says the charity is a "tremendous cause", and he has already raised £4,400 through a variety of fundraising initiatives, with hopes of raising more before the marathon takes place.
John said: "I have always enjoyed running and it has always been in the back, of my mind that I would like to do the London Marathon. Everyone knows about it and because it is on TV every year it is something I have always wanted to do, so I'm looking forward to it.
"Ronnie was well known in the area. He was a very popular person and his funeral showed what a fantastic bloke he was. Donations there were in lieu of flowers to Epilepsy Action, because of the connection to his daughter and that's why I have chosen this."
John has held a variety of fundraising nights and has more in the pipeline before the marathon.
The football team held a charity match on New Year's Day and the Cricket Club held their annual family charity day in aid of Epilepsy Action and each club held a poker night," said John. "Denise, Ronnie's wife, also held a ladies pamper night so she has been a great support too."
John added: "We will be holding a Night at the Races in Derriaghy Cricket Club on Saturday March 27, where there will be a ballot and a disco afterwards.
"There are 21 people from across the UK running for Epilepsy Action and as it's their 60th Anniversary they are hoping to raise £60,000 from all of us. I am currently at £4,400, which is above the minimum target of £1,500. I don't have a maximum target, I just hope I can raise as much as possible."
John, who will spend a couple of days after the marathon in London with his wife Pauline, has been busy training over the past few months running approximately 45 miles per week.
John stated: "I started training in October slowly building up until Christmas when I began an 18 week programme. I have had a lot of support and I want to give everything to do it. I want to enjoy it; the last thing I want is to struggle half the way around. I am aiming for four hours 15 minutes but as you go up in the miles you realise you are slowing down a bit and the most important thing is to finish.
"I would like to thank Ronnie's family, his wife Denise and children Gary and Sarah, for allowing me to raise awareness of the charity and all of my friends connected with the football team and the cricket club and those in the area who have helped. I have had a lot of support from my work colleagues and even people who I have played cricket against have donated; it's been a fantastic response from everybody. The amount of money coming in inspires you and keeps you going. Anyone who would like to donate towards John's challenge can do so by visiting his Just Giving page at www.justgiving.com/John-Torrans. Alternatively you can email John at john.torransI4@btinternet.com or visit either Derriaghy Football Club or Cricket Club to make a donation.
John Torrans, who will be running the London Marathon on April 25. US1110-51
stacey.heaney@ulsterstar.co.uk
Ulster Star
19/0/2010