Taxi driver picks up the pieces after digger destroys car
by MARY MAGEE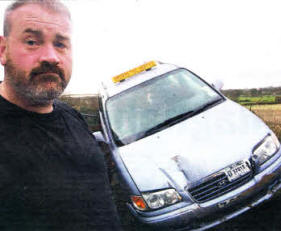 A BALLINDERRY taxi driver is picking up the pieces after someone caused £10,000 worth of damage to his car and business using a digger in the early hours of last Tuesday morning. Jonathan Brown (36) says that he has been left high and dry after the incident where someone drove down the driveway of his house destroying his gates and smashing into the car that he uses for his taxi business. It was rammed down past the back of the house and through a hedge.
Jonathan had been working earlier in the evening and returned to his home - where his wife Denise, and three children who are aged 10, 9 and 5 live - around 12.40am. A few hours later, as he was getting ready for bed, he heard the sound of an engine and when he went outside saw a JCB digger at his car.
Astonished by what had just happened, Jonathan called the police. "It's lucky the car wasn't forced into the house - goodness knows what might have happened then" he said. "I just cannot believe it.
"I am left with no car and so I cannot work either. If I get insurance for another car while there is a claim pending I have to take out a new policy for £5,000. it is just not viable. This has left me high and dry with no car and no income.
"It is like something out of the Twlight Zone. I just cannot take it in. "We moved from Belfast years ago to give my children a better upbringing and we had never any bother there. This is not the thing you would expect around here. it is just unbelievable."
* Police say a 52-year-old man from Glenavy was arrested following an incident at the Crumlin Road in Ballinderry in the early hours of last Tuesday morning, January 26. He was later released on unconditional bail.
Ulster Star
05/02/2010