Drive to help Josh gets a big boost
| | |
| --- | --- |
| | |
| The Fletcher family outside their home in Moira | Josh Fletcher outside his home |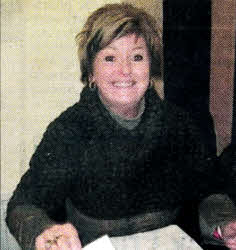 A MOIRA boy who will be travelling to England for a life saving bone marrow transplant next month got the shock of his life on Saturday morning when he was taken to a fund raising event in his honour in his favourite automobile.
But there wasn't just one Subaru car - a convoy of 18 arrived at Josh Fletcher's home at Hillsborough Road to take him to Maze Presbyterian Church Hall for the special event to raise money to help the family while Josh is in England for the treatment.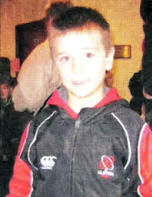 Joshua thought that he was travelling in his father's car, until he heard the thunder of engines and stepped outside to discover the Subaru convoy.
The organiser of the fundraising event, Gaye Kerr, heard that Joshua's favourite car was a Subaru and contacted the https://www.scoobyireland.com website who arranged for the convoy. "Eighteen young lads gave up their free time to make our fun day extra special," she said. "It is exciting for a young boy like Josh who loves Subaru's to see one out on the roads, but his little face said it all when he came outside thinking he was going in his dad's car to the fun day and seeing he was getting chauffeured."
Josh, sister Jodie and Dad Joe went in the leading car and brother Adam and mum Julie came behind in the second. The event itself raised £4,560 which will go towards travel arrangements for the Fletcher family. During the event Dave McEwen served up hotdogs and burgers, there was a bouncy castle and assault courses, while Subaru fanatics were taken for a drive in the convoy. There were also hand massages and manicures available as well as pool tournaments, penalty shootouts and an air hockey competition.
| | |
| --- | --- |
| | |
| Brian Kerr and Adam Fletcher count the money following the fund raising event at the Maze Presbyterian Church Hall | Little Jodie Fletcher gets her nails painted at the fundraising event at the Maze Presbyterian Church Hall |
A school friend of Joshua's, Eve McMullan (7), wrote a message in a Good Luck Book: "Dear Josh you are a star and everyone knows you are, I hope you get better and enjoy your time in London."
Jodie, who will be giving her brother the 'gift of life' received a beautiful Baby Born doll, which was donated by Smyth Patterson's in Lisburn.
"I am totally amazed by the generosity from everyone, I can honestly say if the kindness of people alone in Northern Ireland were to cure children, we wouldn't have any more sick children," said Gaye.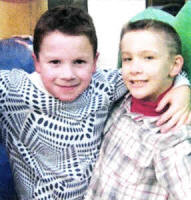 "It goes to show that something so positive has come out of something negative.
"I'm proud of my sons Adam (10), and Brian (7), who after being through what the Fletchers have ahead, have shown compassion and their caring side at such a young age.
"My boys were so, so pleased at the amount we raised for the Fletcher Family, and have proven that the sadness they have both had in their short lives have made them into two very caring boys, and I know Adam will be a continuing emotional support for Adam Fletcher when his parents and Josh are away.
"Something positive has finally come out of our negative experience we as a family have been through."
Auctioneer for the day was Nigel Dillon. Gaye would like to give a special thanks to Leigh-Ann and Elaine Dillon, Janet McKendry and Angela McEwen.
Ulster Star
08/01/2010