Tributes paid to Lisburn woman
whose cancer journey touched so many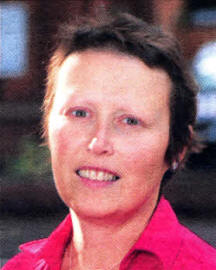 A F1GHTER to the very end' is how the husband of local cancer campaigner Karen Blythe has described his wife who has passed away after a struggle against the illness.
Karen (45) passed away on May 4 at the City Hospital. Typically, just days earlier she had hosted a coffee morning at her home at Haddington Hill that raised £2,500 for a local cancer charity.
Karen was first diagnosed with breast cancer five years ago after her younger sister Sandra Milroy had received a similar diagnosis. Although Karen herself had no symptoms, she decided to get checked out and found she had identical grade three cancer.
Both women underwent six months of treatment which included gruelling surgery, radiotherapy and chemotherapy. At one stage Karen was given the all clear, however her cancer returned. To help fight it she went to Mexico twice for treatment. Railway Street Presbyterian church along with friends and family helped to raise money to send her.
Despite everything Karen continued to stay positive and often returned to work at Beaufort in Dunmurry.
All the time she worked for charity, at one stage collecting £2,000 through a pampering party. A 20-year-reunion dinner with her university friends raised £1,000 for the Ulster Cancer Foundation and Action Cancer while a further £1,000 was raised from a Venture photography event and the money will go towards Macmillan.
Husband Brian said that his adored wife had dealt 'remarkably' with her cancer.
"She was always very positive and stayed positive for our young girls Caitlin (6) and Sophie (11)," he said. "Cancer never stopped her from doing what she wanted.
"She supported and attended events relating to cancer. She did a talk for the Round Table and at a black tie dinner at New Forge with Rotary. She never held back and was a true fighter to the very end."
Catherine Gibson, Community Appeals Officer with Action Cancer, said Karen had supported a wide range of their events.
"The support and work that she did was invaluable," she said. "She supported us and other cancer charities and she will be greatly missed."
Liz Atkinson, Head of Care Services at the Ulster Cancer Foundation said they were: "deeply saddened by the death of Karen following her courageous battle with breast cancer.
"Karen was an inspirational and exceptional woman whose journey with the Ulster Cancer Foundation touched and helped countless lives. She bravely and willingly shared her personal experiences, helping others through their cancer journey with dignity, compassion and a humour which Karen will be so fondly remembered for.
"Karen was determined to help others - she continued to fundraise for the Ulster Cancer Foundation and even held a coffee morning before she sadly passed away. The coffee morning was a tremendous success and a fitting tribute to Karen.
"Throughout her cancer journey she showed great courage and an amazing spirit which will continue to inspire people who are faced with a diagnosis of cancer. Karen will be forever warmly remembered by all her friends at the Ulster Cancer Foundation. Our thoughts are with her family and entire circle of friends."
Peter Hastie of Macmillan Cancer Support said: "We will always be so grateful for the fundraising done by Karen, her friends and family to fund Macmillan's work across Northern Ireland for people affected by cancer."
A Service of Thanksgiving took place on Friday (May 7) at Railway Street Presbyterian Church, followed by a Service in Warrenpoint Presbyterian Church and interment at Clonallan Parish Churchyard.
Ulster Star
21/05/2010