Locals gear up for action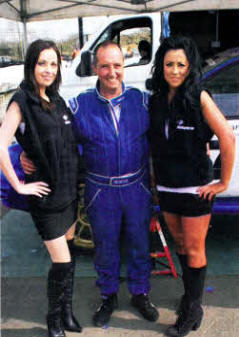 SUNDAY sees the second round of kart racings Ulster Cup take place at Nutts Corner Circuit and judging on the recent opener to the series and the Ulster Championships at Easter this Sundays meeting should be very close in all classes. The Ulster Karting Club promoted series is all about consistency with points from heats also counting and locals will be all out to do well.
Stoneyford's Scott Finlay and other locals are certain to be looking for big results but in the case of Finlay he will be hoping to continue his big run of wins in the Mini Max class, the last one being the Ulster Championships.
Scott has had an amazing start to the year so far. After winning both winter series by the UKC at Nutts Corner Circuit and the 500 MRCI at Kirkistown, Scott is now leading not only the Ulster Cup but also the Northern Irish championships and the Southern Irish championships. Having won the last five finals in a row Finlay will be a tough one to beat this Sunday.
Lisburn's Kyle Price has maintained a strong pressure all year and in the Ulster championships Kyle pushed all the way. In the end Kyle took second with only one place worth of points separating him from Finlay.
Lisburn's Jamie Grant, Megan McCrea and Dromore's Ross Graham will also be hoping to build on their top ten finishes so the top five could be a busy place for locals this Sunday.
In the Comer Cadets, Lisburn's William Creighton will also be looking to do well after securing the Ulster championships and if William can keep up that run then he too will be hard to beat.
Castlereagh brothers Ryan and Jack Young are really taking to the sport in their first full year and after taking second and third at Easter they will start in hopeful form on Sunday.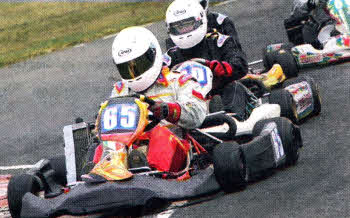 The Junior Honda class is dominated by locals. Last time out Carryduff's Charlie Eastwood tried out the class and brought his British championship form to the fore on a loaned machine. In the end Eastwood stormed to victory but their were plenty of others in contention. Crumlin's Mark Murphy and Dunmurry's Kyle White were inseparable in the end forcing. tie break rules to be used which just gave second to Murphy.
Ross Morrison from Nutts Corner and Jay White were also in close battle and finished only one place apart with Ross just taking fifth which was a great result in his first season.
In the Pro kart class, Moira's Jonathan McCarthy has been in strong form all year and a third in the Ulster championships shows his determination. Aldergrove s Vince McCaffrey and Nicholas McCarthy will also battle for the top five if their last results is anything to go by.
In World Formula, Dromore's David Lilburn really impressed at Easter and with a string of wins secured the Ulster Championships comfortably. Hillsborough's James Coulter has also started well this season and a fourth at Easter shows his potential.
The circuit has been a hot bed of activity of recent with the two rounds of the Fuch Lubricants British Open Rallycross championship last weekend. Some karting drivers will also be using the May 2 Ulster Cup round as their preparations for the British Championship round that will visit the circuit on May 29 and 30.
In the 125 Rotax Max class, Carryduff''s Ramie Eastwood will be doing just that and after a big run of wins in the Ulster Championships he will no doubt be in confident form. In the Ulster Championships Lisburn's Kris Fitzpatrick made a strong return to the sport and with other top ten contenders Gareth Greer from Ballynahinch, William Martin from Lisburn and Dromara's Andrew Lynch then the class will be a strong one for locals. Racing gets underway at 10am.
Ulster Star
30/04/2010