`Building houses in Romania changed my life'
HILLSBOROUGH WOMAN URGES OTHERS TO TAKE THE CHANCE TO DO SOMETHING REMARKABLE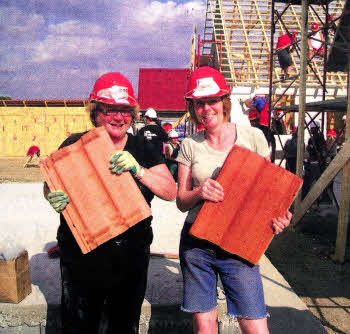 AN independent television producer from Hillsborough who spent a week building homes in a Habitat for Humanity project in Romania, has described the experience as one that has changed her life forever.
Kathryn Baird, a mother-of-three, was one of the volunteers from Northern Ireland who helped build houses in Beius last October as part of the Big Build 09.
This year Big Build will go return Beius to rebuild the 'White House' where eight families are currently living in terrible conditions.
Kathryn, from Clogher Road, had never intended to head off to Romania when she volunteered for Habitat. She had simply wanted to do voluntary work locally.
She took part in a project to build homes at the Peace Line at Madrid Street in Belfast but on her first day was asked if she going to Romania.
"I found myself saying 'yes' when in reality I did not know what I was getting myself into," she said. "I am not agile, not particularly fit nor am I sporty or strong and thought I might be a hindrance rather than a help. What would I offer?
"Right up until the moment I set out if I had got an excuse not to go to Romania I would have taken it."
In fact she found she was well prepared for the physical challenge, but not the emotional.
"The homes we were building were for people left as orphans from the Ceausescu's rule, many of whom lived on the streets," she said.
"Some who had been living in the most appalling conditions and many who had the most appalling lives. It was very emotional. When we handed the keys to one family they said that it was the first time they ever had a front door. "I met such wonderful people both from Northern Ireland and Romania, working together to help transform a community, what a privilege. The Big Build experience has changed my life forever. I would definitely encourage anyone who is toying with the idea to go, it will change your life too.
"You get to know how other people live and we felt quite proud when we completed the project.."
Kathryn admits that since she returned to Northern Ireland she has been shocked thinking how families in Romania were surviving while so much money is wasted here.
"I looked in a shop and they were selling all this tack," she said. "I remember thinking how the money could help people build so many houses in Romania. It just made me so angry." Though Kathryn would love to return this year, she feels she has exhausted her fundraising for this year. She helped with a fundraising ball, a garden party and helped raise money for her son who went to Kenya to build a school.
To register for Big Build 2010 or to find out more information log onto to www.habitatni.co.uk or call Habitat for Humanity on 90243686
Habitat for Humanity is a non-profit, non-denominational Christian movement with a vision of a world where everyone has a decent place to live. Since its founding in 1976, Habitat has built more than 350,000 houses worldwide. A Habitat home is completed somewhere in the world every 10 minutes.
Ulster Star
23/04/2010