Local company supports eye doctors in Africa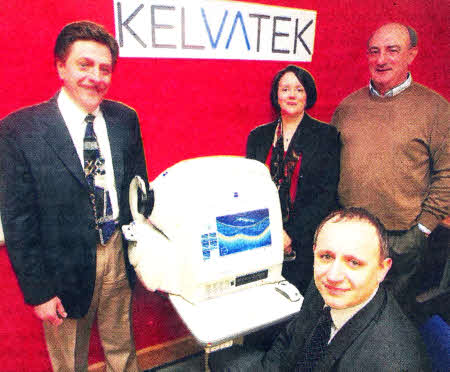 Dr Giuliana Silvestri, Mr John Cunningham, Professor Gregory Hageman and Mr Vittorio Silvestri pictured at Kelvatek who donated a Cirrus 0ptical Coherence Tomographer by Kelvatek Ltd for research into Age-Related Macular Degeneration in Kore-Bu Teaching Hospital Accra Ghana. Leading the Research is Prof Gregory Hageman from the University 0f Utah. US1310-118A0
KELVATEK, a Northern Ireland technology company based in Lisburn, is donating a £60,000 piece of high-tech eye-scanning equipment to be used in Ghana.
The equipment is being donated to the Queen's University Centre for Vision and Vascular Science (CVVS). The CVVS carries out research into various eye defects, such as age-related macular degeneration (AMD), an ailment that affects the central vision of the patient and can lead to blindness. AMD is a common condition, particularly amongst the over 60's, and the CVVS is at the forefront of work to develop tests and treatment. The scanning equipment is to be used in both Ireland and Ghana, one of the world poorest countries. For the first time in this part of Africa, doctors will now be able to detect this condition in its early stages, increasing the patient's chances of retaining their sight.
Kelvatek designs and manufactures cutting-edge equipment for the international power industry. With its headquarters in Lisburn, it has sales and engineering offices in England, Germany, Poland, Chicago and Shanghai.
Ulster Star
02/04/2010