Kenyan 'garden of hope' inspires footballers
to put on their running shoes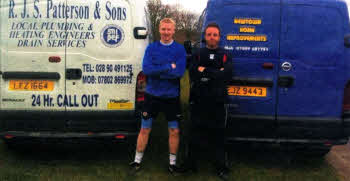 TWO footballers who play in the South Antrim League are will be swopping their soccer boots for running shoes to take part in next month's Belfast Marathon to raise money for a Kenyan slum-based feeding programme.
It will be the thought of supporting the The Garden of Hope project that will keep Mark Patterson and Daniel England, who play for Belvoir FC, focused during the gruelling 26 mile run. They decided to take up the challenge after they heard about the the good work that the project does from their friend, teacher Dawn Wilson, who has visited The Garden of Hope over the last three summers. Dawn and her colleague Kelly Colbert will be returning to Nairobi this August to assess the current needs at the Centre and distribute financial and practical assistance.
Dawn says she is delighted her friends are trying to raise money for such a worthy cause and explained the project aims to meet the needs of vulnerable people of Gichagi village, a short distance from the capital city Nairobi.
"The programme feeds over 200 children from the slum village on a daily basis" she said. "Many of these children are orphans and many are HIV positive. "The conditions in this area are bleak; there is no running water or sanitation in the village. Children with swollen stomachs run around in tattered clothing and their bare feet are infected with jiggers. Houses are basic tin structures. Some comprise of only one room and it is here that you may find a mother with her eight children sharing one bed. In the midst of this poverty there is 'Hope' being offered by a Kenyan mother and teacher, Pauline Waweru and her team of workers. They aim to provide the children with maize meal porridge or tea in the morning and a lunch in the afternoon, consisting of vegetables and maize or rice."
Dawn continued: "The centre operates from Monday to Saturday each week. Some of the children receive basic education at the centre and for those who are being sponsored through school they keep their uniform at the Garden of Hope and come here to get washed and ready for school. Many of the children do not even possess a bar of soap at home.
"Funds are urgently needed to maintain this feeding programme; especially in the current time of drought and famine in Kenya and at a time when food prices have trebled due to political unrest. We have received sponsorship from several local businesses including Stevenson & Reid, Plumbing Wholesalers (Castlereagh Industrial Estate), N. S. Day Spa, an award winning salon on Lisburn Road, Heat Ltd, heating contractors and R.J.S. Patterson & Sons, local plumbing and heating engineers and Newtown Home Improvements."
All proceeds raised by the runners will support the provision of food and education for these kids in Kenya.
If you are interested in supporting this worthy project or providing sponsorship for the runners please contact Dawn Wilson by email: dewilson33@hotmail.com
Ulster Star
16/04/2010