Kimberley gets a degree - and a husband - at Queen's University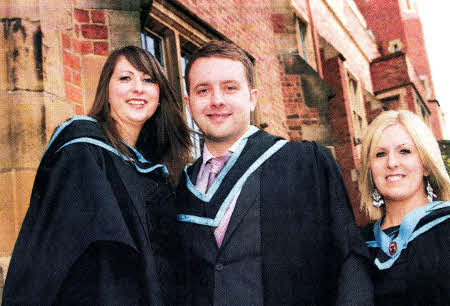 Kimberly Thompson (left) from Ballinderry, her fiancé David Watters from east Belfast, and her sister Gail Thompson all graduated in Nursing at Queen's School of Nursing and Midwifery graduation ceremony.
THERE were celebrations at Queen's University last week when Nursing graduate Kimberley Thompson shared her graduation day with her sister Gail and fiancé David Watters, who were also receiving their Nursing degrees.
Kimberley (25) from Ballinderry and David (27) from East Belfast dot together six weeks after meeting at Queens.
Almost three years later David proposed and the happy couple are now planning their wedding. They will graduated alongside Kimberley's sister Gail (28).
Kimberley started work recently in the A&E department at the Ulster Hospital, while Gail is working at Craigavon Area Hospital and David is working with young people with mental health issues.
"I am delighted that David, Gail and I are able to share our graduation day," said Kimberley. "I came to Queen's hoping to get a degree and the skills and knowledge to follow a career in nursing, but I never expected to find my future husband here too."
Ulster Star
01/01/2010