Lagan seal `pelted' with stones
by STACEY HEANEY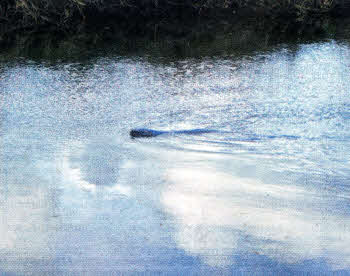 THE seal which has been spotted in the River Lagan in recent months was 'pelted' with stones by youths last week.
Star reader Edmund Moore, who has been following the story of the seal, came across the animal close to the Coca-Cola factory in Lambeg late last week where he witnessed six youths hurling stones at it.
Mr Moore stated: The seal was being pelted with stones by kids who appeared to be aged between 10-14 years old. I shouted at them to stop and received abuse back from them in return, but I am more concerned about the seal. We had the incident in recent months when young hoodlums shot swans with a crossbow, I don't want to see anything happen to this seal." Mr Moore contacted the Exploris Seal Sanctuary and the USPCA after the incident. He added: "The seal has been in the area since December. I first spotted it on December 21 and I have seen it plenty of times since then. A lot of elderly people walk along the Lagan and I always tell them to look out for it, it is a pleasure to see, people shouldn't be attacking it."
Tania Singleton, the Senior Aquarist at Exploris Seal Sanctuary in Portaferry appealed for anyone who sees the seal to leave it alone.
Tania commented: "I would ask anyone throwing stones not to do it. Seals are a protected species, it is illegal to harm them.
"A seal is not going to hang around whilst people throw stones at it, it will move off and once it dives under the water hopefully they wouldn't actually hit the seal.
"I would be concerned that the wrong type of element would learn about the seal and try to harm it. To try to remove the seal would require divers and a net on either side and even then it may still be able to escape up the sides or jump over the net. There is also nothing to stop it going straight back up the Lagan again as it knows there are fish there," she added.
Tania concluded: "I would ask people to please leave the seal alone. I also wouldn't want people to start feeding it as will probably want to stay there and it is adding to the risk as it could start approaching people, which we don't want."
The USPCA's David Wilson said anyone who comes across people attacking the seal should contact the police immediately. Mr Wilson stated: "Seals are back in the Lagan because the fish are back and the Lagan is much cleaner, It is just feeding and is not doing any harm. If kids are attacking it then that is a crime and it should be reported to the police.
He added: "People should appreciate the seal's presence; people should watch it and enjoy it, not attack it."
stacey.heaney@ulsterstar.co.uk
Ulster Star
12/03/2010