Is it a pantomime? Oh no it's not!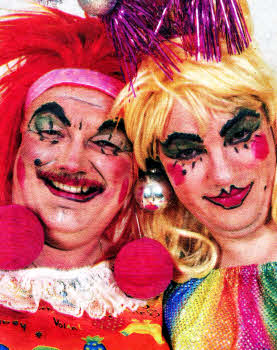 LOCAL drama club Lambeg P1ayers , which celebrated its 50th Anniversary in 2006 and has raised over £70,000 for local charities, is hitting the Lagan Valley Island Theatre in January with not their usual Pantomime but a `Greatest Hits' variety show called `Once Upon a Time'.
From Wednesday January 6 — Saturday January 9 this will be a vibrant and spectacular night of highlights and favourites with comedy and music for all the family, this show is packed with favourite scenes from previous pantos, production numbers, comedy sketches and a few surprises.
As has been the case every year with Lambeg, local charities have taken blocks of tickets for the week long run to raise money for their worthy cause. Lisburn man Henry Brown is Lambeg Players' business manager and he is encouraging charities to come forward and benefit their fundraising efforts. "We allow charities and local groups to take blocks of tickets from 50 to 250 at a cost of approximately half the box office price.
"They can then sell them on to their members and supporters raising several hundred pounds in the process by simply selling tickets for a great family night out.
"So it's a win-win, they get much needed funds and we get an appreciative full house," he continued. "We already have most of our availability allocated to our regular charities such as Outreach Amazon , Oasis Village Ndola and Cystic Fibrosis Trust but we can offer up to 200 tickets for the opening Wednesday night."
Any charity or local group that wants to take up the offer should email Lambeg Players through their website by visiting www.lambegplayers.com.
Ulster Star
01/01/2010