Largymore Primary School rises from the ashes
by MARY MAGEE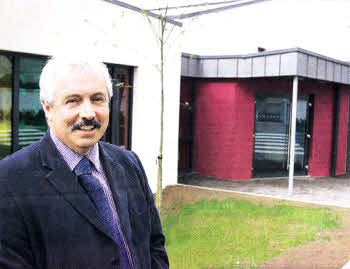 LARGYMORE Primary School, which was partially destroyed in an arson attack four years ago, has been fully repaired and re-built and is ready for a big celebration. An official opening of the new school buildings at the Hillhall Road, which cost well in excess of £500,000, will take place next Thursday.
A 'Britain's Got Talent' type contest will be held that evening among the pupils and the winner will be given the opportunity to officially open the new building. It was four years ago, in April 2006, when three classrooms were partially destroyed in a fire. The rest of the school suffered smoke damage in the blaze. £2,000 worth of play equipment which has been bought by the PTA was also destroyed.
The worst damage was caused to the wing housing the P1- P3 classrooms. One classroom was completely gutted while fire and smoke damage effectively destroyed the rest of the building. Harry Stewart, who has been principal for 15 years, said the arson attack occurred during the school's centenary year, but was never allowed to overshadow their celebrations.
"The staff and the community have always been fully supportive of what we do. Despite the fire everyone got behind us and continued with the celebrations.
"We wanted to do something a little different with regards to the opening. We wanted something positive and to allow one of the children to open the building."
The classrooms that were destroyed have been replaced with new state-of-the-art classrooms with modern whiteboards and underfloor heating - and the front of the school, one of the oldest parts of the building, was also replaced with with a new hall and reception area.
Mr Stewart said: "The fire was a complete shock for everyone at the time but the strangest thing is that there have been so many positive things that have come from it. Everyone got behind us and wished us well."
The talent contest has had a lot of entrants including singers, dancers, musicians and a magician.
The evening will be followed by a barbeque for up to 350 people.
mary.magee@ulsterstar.co.uk
Ulster Star
21/05/2010