Superb 'double' as Larkfield triumph in Shield final
NETBALL
| | |
| --- | --- |
| | |
| Caroline O'Hanlon, captain of Larkfield leads her side on their way to winning the NI Senior shield netball final against Belfast Ladies, at Lisburn Racquets Club. US1610-522cd | Action from the Senior Plate final between Laganside 1sts and Graduates 3rds, at Lisburn Racquets Club. US1610-520cd |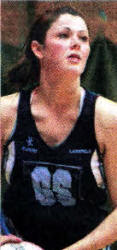 LARKFIELD Ladies Netball Club completed a superb League and Shield double when they won the Senior Shield Final with a fantastic 51-41 victory over Belfast Ladies at the Lisburn Racquets Club last Saturday.
The climax of the Northern Ireland Netball Shield and Plate finals featured the two club's from Lisburn when Laganside and Larkfield were in action at the event.
In the Senior Shield Final, Larkfield were up against old-rivals Belfast Ladies and the local side entered their 50th year in May in style when they won the Shield to add to the Premier league Cup which they won last month.
The oldest club in netball first lifted the Margaret Shaw Shield in the 1966-67 season and went on to dominate the competition for eight years before Pegasus entered the scene. They have since disbanded and the big three are Larkfield, Belfast Ladies and Graduates. Another three titles came to Larkfield in the nineties and then in their 40th year in 2004, their 12th title was added with the 'double' league cup for good measure.
Coach Denise Prue praised her team for their tenacity leading throughout the first half. It was not until there was only six minutes left that they stretched their lead to seven goals, finally winning by 10, which saw jubilant end of season celebrations for Captain Caroline O'Hanlon's elated team.
Meanwhile Laganside were in two finals, the Intermediate Shield with their Seconds losing to Graduates Fourths 54-29 and the Senior Plate final with their Firsts who lost to Graduates Thirds 54- 39
Ulster Star
23/04/2010