£8m 1,000 seater sports arena for Lisburn
1,000 seater venue will put Lisburn on sporting map says Craig
by STACEY HEANEY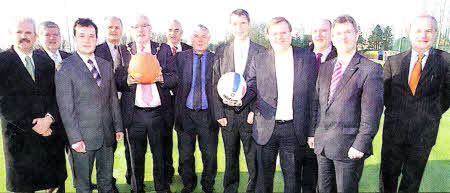 LISBURN is set to get elite sporting facilities which are "second to none after an £8 million investment was announced by the Minister for Culture, Arts and Leisure, Nelson McCausland for a new basketball facility at Laurelhill College, Lisburn.
The facility will provide space for one thousand spectators and will be used by Laurelhill College during the day and be open to other events in the evening and weekend.
The new elite I,000 seater basketball/volleyball arena will be built alongside the expansive Sports Hall, astroturf, hockey, football and rugby pitches already located at the school. The news comes after Lisburn councillors met recently with Mick Harkness, the Director of Participation and Facilities for Sport NI to seek an update on the progress of the scheme.
The former Secretary of State Peter Hain initiated the Elite Facilities Programme in March 2006. It offered funding to improve the NI sporting infrastructure by providing new or improving existing facilities for elite and potential elite NI athletes in Commonwealth and Olympic games disciplines.
The purpose of the funding programme was also to enable Northern Ireland to potentially host training and holding camps for teams participating in the London 20I2 Olympic and Paralympic Games, which the Lisburn can now hope to achieve should the building work be completed on schedule.
Speaking about the investment, Councillor Jonathan Craig said: This is a regional facility that really puts Lisburn on the map with regards to sports. This facility is second to none and we hope to get some of the Olympic teams in for training ahead of 20I2 if it can be done on time.
"This new facility will be available to the school during working hours and open to host other events and for public use at all other times.
"I have been working with Laurelhill for sometime in securing this. It is up to all of us to promote exercise and a healthy lifestyle to our children as rates of obesity soar because more and more of our children prefer staying indoors rather than going outside.
"The facility will also be able to be used for a range of other sports including netball and indoor football." the MLA said.
Laurelhill College's Principal, Mr James Martin, also welcomed the news.
"The College is seeking to extend the existing Sports courses on offer" he said. "When this latest addition is in place our pupils will have every opportunity in which to develop physical, academic and practical skills as we move into the future. We recognise that one of the fastest growing sectors in our economy is the sport and leisure Industry and to this extent we hope to offer further career opportunities in this area."
The new basketball/volleyball arena will be finished to Olympic specifications.
Mr Martin added: "When this exciting project is completed we will be able to provide our pupils with real 2Ist century sports facilities."
stacey.heaney@ulsterstar.co.uk
Ulster Star
05/03/2010