Legends Day success for NICFC charity

The Hillsborough 40th Anniversary team.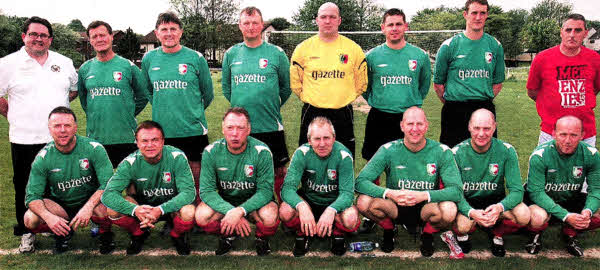 Glentoran Legends team pictured before the Hillsborough 40th anniversary match against Hillsborough. US2110-520cd
THE charity fund raising 40th anniversary game between Hillsborough Boys and Glentoran Legends was a fantastic success last Saturday at Rushmore.
The main event was preceded by members of the Under 6's, 7's, 8's, 9's and 10's enjoying a series of matches followed with a penalty shoot out.
When this finished the junior section of the club were presented with their awards by former player and Linfield star Noel Bailie. Unfortunately Noel was carrying a rib injury and unable to play in the main event.
Jim Greer led both teams onto the pitch accompanied by mascots representing Hillsborough Boys and NICFC. Team captains Alan Moore and Rab McCreery exchanged mementos to mark the occasion.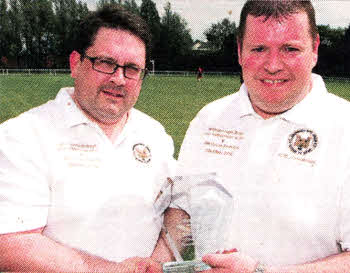 Founding members of Hillsborough Boys Brian Ogle, John Thompson and Francis Farr took their place on the touchline to lend support to their old charges. The boys were full of endeavour and showed no lack of passion, but the old legs just wouldn't do what the head was telling them. Flashes of the old magic was still there, Eddie Beattie dropping the shoulder and turning his man brought memories back to his old mentor Ogle, but unfortunately he lost his footing and was unable to deliver the goal it deserved.
In a tightly contested game Glentoran led 1-0 at the interval through a deft chip from Raymond Morrison. In the second half further goals from Billy Caskey, Gary Blackledge and Darren Parker rounded off a 4-0 victory for the Glens. Hillsborough had their fair share of chances, but a lack of composure in the final third coupled with the imposing figure of Neil Armstrong in fine form for the Glens kept them from registering. On the final whistle both teams shook hands and one of the abiding memories of the day was captured on camera when the Blackledge brothers Gary (Glentoran) and Paul (Hillsborough Boys) were congratulated by their proud dad Arthur.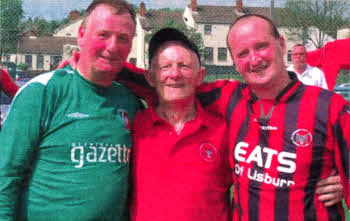 Players from both teams were treated to a finger buffet after the game where they relived the game and reminisced about years gone by.
The big winners on the day were the Northern Ireland Cancer Fund for Children who will benefit to the tune of £800.
Match organiser Gareth Clements commented: "There are too many people to thank individually so without missing someone out so on behalf of the club I would like thank everyone who supported financially or by giving of their time, premises and services as it was greatly appreciated. The figure we raised will certainly make a difference to the N1CFC."
Ulster Star
28/04/2010