£20M WORLD CLASS COLLEGE OPENS IN Lisburn
PUBLIC INVITED TO VIEW STATE OF THE ART CAMPUS
by JENNY MONROE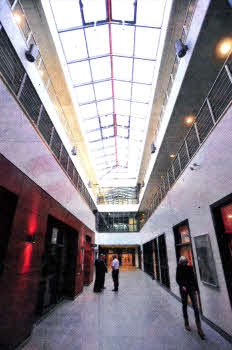 THE new £20m Lisburn campus of the South Eastern Regional College has opened its doors this week marking a new chapter in its rich history.
The state-of-the-art campus spans 14,200 square metres in Castle Street in the heart of Lisburn city centre.
It houses a world class technical skills centre, workshops, a fitness suite, industry specific science laboratories, fully equipped IT suite, commercial restaurant and hairdressing and beauty therapy salon.
Management say the facilities, combined with the expertise of College staff, 'future proofs' SERC's vision to become one of the top 20 colleges in the world.
Ken Webb, Principal and Chief Executive of South Eastern Regional College, who himself attended the old Lisburn Tech, said:
"We are delighted with the new campus and hope it does our forefathers such as Cecil Webb and Richard Wallace proud. We have strong roots in Lisburn, working with industry and delivering the skills the local people need to secure jobs. Our aim is to continue with this, delivering high quality, innovative training and encouraging our students as enterprising as previous names like Ferguson."
Lisburn man Gary Chambers, Contracts Manager for SERC, managed the new build process from start to finish. A past student of the College Gary was on site from the first sod was cut and laid the first brick on the new building - demonstrating the many skills he learnt during his time studying construction at the College during the 1980's.
Gary said: "I am proud to have been involved in this project and pleased to see it completed.
| | |
| --- | --- |
| | |
| Gary Chambers, Contracts Manager and Sonya Smiley Project Manager at the handing over of keys for the new Lisburn campus. | (L-R) Michael Malone, Director of Curriculum and information Services — SERC, Martin Gillespie -Grahams Facility Management, Gary Chambers, Contracts Manager — SERC, lan Cuthbertson - Bilfinger Berger Project investments and Ken Webb, Principal and Chief Executive - SERC |
"A lot of hard work went into this project to ensure the building was open on time. On Friday 9th April the reception area was still being plastered yet on Monday morning we were welcoming staff and students through the doors."
The College says it prides itself on an 'open house' policy and guided tours of the new campus will be held every Thursday from April 29 until the end of June commencing from 10am for two hours.
Tours are open to all, however they must be booked in advance by calling 9267 7225. During the tour you will be provided with a detailed insight into the new building and also given a history of Lisburn College dating back to the times of Richard Wallace and Cecil Webb and the inception of the College at the heart of Lisburn.
Ulster Star
16/04/2010