Lisburn clinch `hat-trick'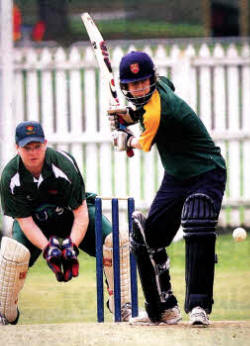 LISBURN defeated Downpatrick for the third time in three weeks in the Park on Saturday, winning their 2nd round Challenge Cup game comfortably by 42 runs and now go into the hat for a quarter final game to be played on June 19. The home side won the toss on a glorious day and quickly lost opener Richard Simpson for 2 in the 6th over. Fellow opener Ryan Ervine, however, looked to be in fine form and he added a very good 68 for the second wicket with professional Yasas Tillakaratne in just 17 overs .
Ryan Ervine, in total command, had reached 41 when he mistimed a drive and was caught and bowled by Carson, returning to the pavilion very disappointed as he was well on course for a very big score.
Tillakaratne also looked in little trouble until he was deceived by veteran left arm spinner Colin Magowan and was stumped by a margin for another useful score of 45.
The Lisburn total had reached 116 for 3 in the 29th over and it took another stand of 69 between Lisburn skipper Greg Thompson and number five, Hennie van de Merwe to boost the tally and bat Downpatrick out of the game. Thompson was in fine form, striking a three large sixes in the stand while van de Merwe was playing the supporting role. The pair had taken the score to 185 when Thompson was clean bowled by Cunningham for an excellent 63 of just 66 deliveries.
With 10 over still left in the innings, Lisburn's middle order all contributed with van de Merwe 5th man out for a handy 28. He had added a further 31 with David Simpson who went on to score 30 off only 29 balls and with Glen Halliday 3 not out and Richard McConkey 9 not out including a very fine six out off the ground, Lisburn had reached the respectable total of 252 for 6 in their 50 overs. They were presented with the added bonus of 31 extras, including 23 wides from a Downpatrick attack which showed little penetration and poor discipline. Their only bowler with decent figures was James
Cunningham with 3 for 26 off his 7 overs. The visitor, facing a total which required just over 5 runs per over, began slowly against the very accurate bowling of David Simpson and Ryan Ervine. After Linehan had been dismissed by Simpson in the 10th over, Downpatrick had managed just 20 and were now well behind the run rate.
Downpatrick captain, Dale Mullan and professional Farrukh occupied the crease for the next 17 overs adding 70 in the process until Mullan ran himself out in the 18th over. The run out was effected by Greg Thompson who was on the ball like a flash giving Mullan no chance of recovering his ground.
Still well behind the clock, the Downpatrick pro Farrukh was prepared to fight for his wicket and although he lost James Magowan and Gavin Ringland cheaply there was always a chance he could snatch the game. However, with the Downpatrick score at 150 for 4 he was safely caught at wide Ion on by Greg Thompson off the tight bowling of Hennie van de Merwe. for a gritty 61.
The loss of their pro was virtually the end for the brittle Downpatrick batting and aitehough Ferris and Paul Tate added 30 for the 7th wicket, the Lisburn attack mopped up the tail inside 4 overs and the Downpatrick innings ended at 210 for 9 and Lisburn had won by the comfortable margin of 42 runs.
The Lisburn bowling had been impressive with Ryan Ervine returning 2 for 20 off his 10 overs of extremely accurate medium pace. David Simpson, inexplicably bowled just 5 overs to take 1 for 9 while Callum Atkinson was much more expensive with 2 for 53 off his 7 overs. Hennie van de Merwe took 1 for 34 off 10 overs and Greg Thompson had 1 for 46 off his 9 overs. Richard McConkey and pro Yasas Tillakaratne went without a wicket bowling 3 and 6 overs respectively.
This had been a very sound performance by a Lisburn team which batted with some thought, bowled and fielded with great purpose fully deserving their win.
Ulster Star
28/05/2010