Hard toil in cup for Lisburn team
CRICKET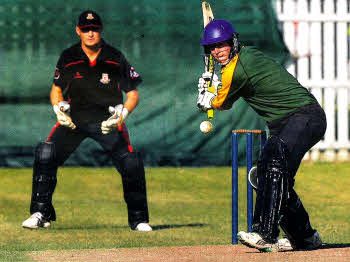 L1SBURN made an early exit from the Bob Kerr Irish Cup on Saturday in Wallace Park.
The visitors Limavady, helped by some very lax fielding, amassed the sizeable total of 288 and it proved to be to many for Lisburn. They did reply with 224 but never threatened the Limavady score at any stage.
Limavady batted first on a lovely clear day and on a wicket which was showing some decent pace. They lost opener, Moore in the 7th over, caught by Derek McCann off Ryan Ervine and six overs later, Dean Curry for 26, also caught but this time off the bowling of Callum Atkinson and Limavady were 48 for 2 in the 13th over.
The fall of the second wicket brought together Riddles and the Davie Cooke and the pair seemed at home against the Lisburn attack. They added 44 for the 3rd wicket before Riddles was lbw to Richard McConkey with the score on 92.
The dismissal of Riddles brought to the crease the famous Dekker Curry and the 4th wicket stand with Cooke was to prove a match winning one adding 172 in 24 overs.
During the stand both players were dropped, Curry on three occasions and the pair took advantage of the poor Lisburn fielding to put the game beyond their opponents.
Lisburn skipper Greg Thompson rotated his bowlers but with the lack of support from his fielders, the two Limavady batsmen proceeded to increase their scoring rate with Hennie van de Merwe and Davey Simpson being on the receiving end of some merciless striking.
Al last, in the 47th over, Cooke just fell short of a fine century when he was bowled caught by Ryan Ervine off Richard Simpson for 95 and two overs later Curry also failed to record three figures as he was bowled by Ryan Ervine for 93. The score was at this point, 282 for 5.
Limavady added just another six runs as Callum Atkinson dismissed McDaid for 14 and Thompson was caught behind the wicket by McCann off Richard Simpson, Limavady's final tally was 288 for 7 in their 50 overs and Lisburn were facing a mammoth task if they were to progress to the second round.
Best bowlers for Lisburn were Ryan Ervine with 2 for 40, Callum Atkinson, 2 for 27 and Richard Simpson with 2 for 10 off his two overs at the end of the Limavady innings.
Lisburn openers, Ryan Ervine and Adam Berry, got their heads down and gave their team a more than reasonable start. They added 53 for the 1st wicket before the patient Berry was caught behind for 18 in the 11th over. Unfortunately, Ervine followed just four overs later for a well played 37 off only 36 balls and Lisburn were 76 for 2 in the 15th over and still behind the run rate required.
Richard Simpson, after his fine performance at Downpatrick , was out for just 10 in the 17th over and three runs later he was joined in the changing room by his brother David, bowled for a 'duck' in the 19th over with the score at 84 for 4.
Skipper Greg Thompson was again prepared to take the game to the opposition and after Sam Ethakoti was lbw for 3, he was well supported by Glen Halliday in a stand of 37. Thompson, however, was out in the 30th over for a well struck 37 off 44 deliveries and Lisburn were struggling at 138 for 6 with just 20 overs remaining.
Hennie van de Merwe and Halliday were not willing to give up the chase and the pair put on 52 for the 7th wicket and looked comfortable as Limavady tried almost every bowler in their side.
The 43rd over saw the end of van de Merwe for a very useful 28 off 24 balls and when McCann and McConkey were dismissed cheaply, it was left to Glen Halliday to reach a very fine fighting 40 before he was last out and Lisburn were 64 runs short of their 289 target. Again the Lisburn top order failed to produce a really big score and this they must address when they play the vital league game against Downpatrick in the Park on Saturday.
---
Out at first hurdle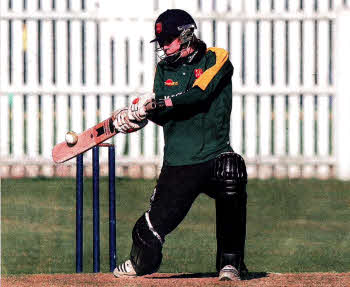 LISBURN Seconds exited the Junior Cup in the first round after a crushing defeat by rivals and one of the cup favourites Waringstown Seconds.
The match was switched to the Lawn due to the Firsts laying claim to Wallace Park, a move welcomed by the Seconds who had not tasted defeat at the venue for five seasons. Waringstown won the toss and elected to bat first and it wasn't long before Lisburn were under the cosh. Dave Kelly bowled a decent first spell but Ian Morrison took a liking to Chris Redpath and the home team were off to a flyer. Morrison was dealing mainly in boundaries and while the skipper Richard Booth juggled his options, the home side reached the drinks interval on 120-0, with Morrison having survived 2 difficult catches, Jonny Ritchie spilling one off Michael Foster and Peter Ferguson failing to grasp one Off the captain himself.
Morrison took advantage of his lives and went into overdrive, passing his century with another towering six and it took an excellent catch by Foster to eventually dismiss him, the veteran pulling off a one handed catch right on the rope to end what was a knock of 114. However, with nearly 20 overs left, the misery was set to continue for Lisburn. A couple of wickets fell quite cheaply but Josh Hall joined the other opener Allenmand they set about the Lisburn bowling. Allen went to a well constructed century, and Hall completed a fluent 50 as the Lisburn attack had very little by way of answers in face of the onslaught. 300 was passed and although Graeme Browne weighed in with a few late wickets, the damage had been well and truly done and Lisburn were facing the mammoth total of 317-8.
A fine start was needed to have any chance of challenging this target but any hopes of an unlikely Lisburn win were soon dashed. A mix up accounted for Jeff O'Hara, run out early on, and Peter Ferguson soon followed. A breezy 23 by Jonny Ritchie and some decent batting by Graeme Browne pushed Lisburn towards respectability but then a rush of wickets, including Ritchie, Booth (0), Foster (4) and Trevor McKeown (10) ended the game as a contest and only Browne with a fine 61 put up much resistance thereafter. When he was 8th man out the innings subsided quite tamely and the final total of 144 meant a utterly comprehensive winning margin of 173 runs was registered by the home team, who could well end up winning this trophy, such is their strength in depth.
Not much positive came out of the game for Lisburn, bar the batting of Browne, and it is hoped things will improve dramatically for the Seconds who have yet to register a win.
Ulster Star
14/05/2010