Lisburn success at Irish Long Course Nationals
SWIMMING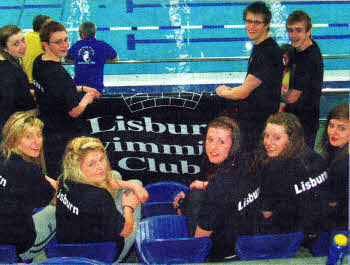 Many of Lisburn's top swimmers were in action recently at the Irish Long Course Championships at the National Aquatics Centre in Dublin.
The premier 4-day open meet of the domestic swimming season attracting around 500 swimmers was given added impetus this year by the arrival of a 50-strong NCSA (National Club Swimming Association) All Star' team from the USA as well as teams from Slovenia, Scotland, Wales and England.
The Lisburn City swimmers rose to the challenge from the outset on day one when Bethany Carson announced her welcome return to top level swimming by winning the B final of the 200m freestyle in a time of 2:06.75 and closing in on her previous best time. Club captain Katie Reid also qualified for the same final but was more prominent in the 100m backstroke progressing through her semi-final to secure a finals berth.
A member of the Irish high performance squad, Katie's time in the final of 1:07.00 was good enough to take the Irish bronze medal. Rachel Smyth and Jemma Bingham both secured places in the 200m fly B final whilst Jemma also recorded a new pb time of 1:14.94 in the 100m backstroke. The girls relay quartet of Bethany, Rachel, Katie and Megan Morrison then combined superbly to progress to the 400m freestyle final where they were unlucky to be pipped into fourth place
David Thompson and Adam Matthews qualified for B finals of their own in the 200m freestyle with new pb times of 2:01.55 and 2:02.89 respectively. David doubled up to swim the gruelling 1500m freestyle and along with Peter Sands, swimming in his first Long Course Championships, recorded robust new best times of 17:28.53 and 18:06.35. 13 year old Peter's commitment to training will ensure that he will soon be qualifying for multiple events at this meet. Olan Derry rounded of a fine first day for the Lisburn City team by securing a swim in the B final of the 200m fly.
Day two opened with a bang as both Adam Matthews and David Thompson progressed to the 100m freestyle semi finals setting new personal best and Ulster Squad times of 55.14 and 55.34 respectively. The standard of this, the men's blue riband event, was extremely high at this meet and whilst neither progressed further they will have gained from the experience. Adam added to his evening's swims with an outing in the 100m breaststroke semi final. Following the boys, both Katie Reid and Beth Carson similarly made the 100m freestyle semi finals with Katie going further and securing a place in the final with a time of 59.97. Despite the standard of international opposition Katie finished in a very creditable 4th placed Irish swimmer. Also in the 100m freestyle, Rachel Smyth continued to set new personal best times as she recorded a time of 1:03.84 before claiming a semi final outing of her own in the 50m fly with another best time of 30.84. The curtain was brought down on the second day with the girls 800m freestyle relay which saw Beth, Jemma, Rachel and Katie collect the bronze medal in a display of determined swimming.
Day three started just as brightly as the previous days when Lee Galloway's new best time of 29.43 was good enough to see him through the semi-finals into the final of the 50m backstroke. Always swimming close to his pbs, Lee's final placing as the 6th Irish swimmer in what was a very high class field was fine reward for his resolve. Training partners, Adam and David continued their personal duel in the freestyle events, this time at the 400m distance with both lads qualifying for the B final. Nicky Galloway joined the team for his first LC Championships with a fine swim in the 200m backstroke but he really rose to the challenge when he joined elder brother Lee, Adam and David for the 400m medley relay where despite much more experienced opposition claimed a finals place.
Beth's 100m fly time was good enough to see her into a semi-final but in a very strong field she was just edged out of a finals spot while Katie also made the semi final of her preferred stroke, backstroke, at the 50m distance and the B final at the 200m distance. Sarah O'Callaghan joining the team to swim her favourite event, the 400m free will be disappointed not to break the five minute barrier despite a fine new best time of 5:00.40 while both Rachel (1:10.72 in the 100m fly) and Megan (2:42.58 in 200m backstroke) will be happy with their pbs.
Finding her best form on the final day Beth finally claimed that elusive individual podium finish when she finished in a close bronze medal place in the 200m IM. Also continuing her strong form, Rachel's 2001M time of 2:43.02 was a new best time which she complimented by closing in on the 30 second mark with a time of 30.64 in the 50m freestyle.
Similarly, David's 200m IM time of 2:23.55 was a new pb before he went on to secure his Ulster Squad place for the season with his second squad qualifying time of the meet going an impressive 25.55 in the 50m free. Adam brought the meet to a close with two 13 final swims in the 200m IM setting a new pb time of 2:17.94 and the 200m breaststroke where he finished strongly to claim 3rd place.
Ulster Star
14/05/2010