Local flautists are honoured for their achievement
by STACEY HEANEY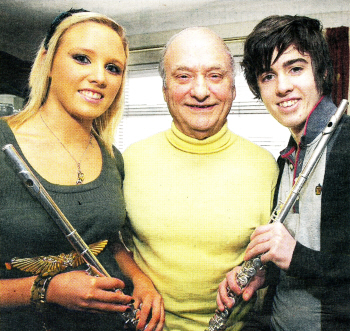 TWO local music students have been celebrating after they both received Grade 8 awards from the Royal School of Music for the Concert Flute.
I7-year-old Reuben Hanna, a former Wallace High School pupil who is currently studying for an HND in Music Performance at the Bangor Campus of the South Eastern Regional College and I9-year-old Maria McGrann, a second year Music student at Queens both achieved Grade 8 in the instrument following tuition with local music teacher Brian Houston.
Speaking about their achievements, Brian stated: "The two of them are really outstanding flautists and they will hopefully take their music further. Reuben is a very, very hard worker who would want to finish up in the professional stream of flute playing, whilst I can imagine Maria as a music teacher."
Brian, who has worked with Reuben over the past year and a half, taking him from Grade 6-8, will continue to work with him as he studies for his Diploma.
Meanwhile, he hopes that Maria will return to study for her diploma in the near future, with her studies at Queens currently preventing her from going on to the next level.
Brian said: "Maria hopes to join me again in the near future when her workload eases up to take up her Diploma. She is also a marvellous singer and has a Diploma from the London College of Music for singing."
Speaking about achieving his Grade 8, Reuben stated: "I would just like to say how delighted I am to achieve this and also to thank Brian for all his time and effort and also Peter Stephenson, my accompanist."
Reuben's mum Karen added that the whole family is immensely proud of his achievement.
stacey.heaney@ulsterstar.co.uk
Ulster Star
12/02/2010