Local businesses invited to 'Made Not Born' roadshow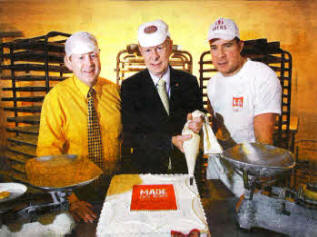 Richard Martin (left), General Manager for Jeffers Bakery and Andrew Jeffers, Proprietor join Employment and Learning Minister, Sir Reg Empey to help launch the 'Made Not Born' Programme to promote Management & Leadership Skills Development across Northern Ireland. The Minister unveiled details of the programme during his visit to the family run Jeffers Home Bakery, a Lisburn based company which has already experienced the benefits of investing in management and leadership training for its staff.
THE Department for Employment and Learning (DEL) has called for Small to Medium Enterprises (SMEs) in the Lisburn area to make their very own future leaders and managers through engaging in the 'Made Not Born' Leadership and Management Development programme.
As part of the programme, companies have been invited to attend a free information roadshow on Tuesday February 2 in the Lagan Valley Island Centre, Lisburn at 5.30pm.
Attendees at the information event will hear directly from high profile management and leadership experts as well as local 'Made not Born' champions, who have already experienced the benefits of Leadership and Management Development, including representatives from Jeffers Home Bakery in Lisburn.
Guest speakers will include Hilarie Owen, founder and Chief Executive of the International Institute of Leadership as well as Geoff Burch, considered to be Europe's most exciting business speaker and writer.
Based on the proven concept that great leaders and managers are not born, but made, the Department for Employment and Learning is demonstrating that by simply adopting good management practices local SMEs can achieve tangible business benefits including higher productivity, better returns on capital and more robust growth.
Highlighting the success of the programme, Raymond McAuley, Department for Employment and Learning said; "Since the programme's launch last November, over 300 SMEs have already taken the opportunity to learn more about the benefits of effective leadership - particularly in these more challenging economic times. With the right ambition, investment and determination alongside the best support and guidance, employers can make their very own leaders and managers of tomorrow which can in turn make their businesses succeed."
In addition, a Leadership and Management Skills Conference will be held on Thursday March 25 in La Mon Hotel, Belfast. Further details can be found on www.delni.gov.uk/madenotborn.
Ulster Star
29/01/2010