Best's beautiful game celebrated at the Island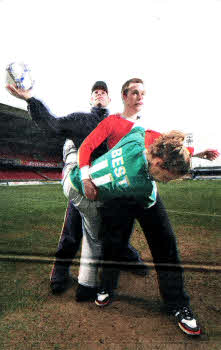 A NEW dance theatre production, which takes the audience on a celebratory journey of George Best's football genius, is coming to the Island Arts Centre for one night on Friday February 26.
Best is the brainchild of Maiden Voyage Dance, Belfast's only professional contemporary dance company, which was set up by Northern Irish dancer Nicola Curry in 200I. Spanning a 40-year period, the performance will lead the audience through the football genius's many loves, highs, lows and triumphs, whilst referring to the music, fashion, design and movement style of the various eras.
Award-winning composer David Goodall has been commissioned by Maiden Voyage for the project and established Scottish dancer and football enthusiast Andy Howitt is choreographing the piece. Andy, who has in recent years become known for his unique dance interpretations of infamous football goals, including Archie Gemmill's goal for Scotland in I978, is taking his inspiration from numerous letters and photographs, as well as Best's I998 autobiography Bestie.
The production is being held with the support of the George Best Foundation. Barbara McNarry, George's sister, who recently attended rehearsals in Belfast commented: When I heard Maiden Voyage were producing a dance about George my initial thought was ' how is this going to work?". Having been down to the rehearsal room I can see that it totally works. I am completely new to contemporary dance and was very impressed and moved by what I saw.
"It is so special to me that George is still being remembered and has been the inspiration for the production."
The YMCA Lisburn is benefitting from an outreach programme of educational workshops, which are being organized in conjunction with the performance and supported by the Lloyds TSB Foundation.
These workshops will combine the physicality, skills and stamina for dance and football, providing a 'first experience' of dance as both a participatory physical activity and as an accessible art form for young people.
Commenting on the educational outreach aspects of Best, Maiden Voyages Artistic Director Nicola Curry, who set up the company in 200I, added: "Maiden Voyage is committed to developing dance for audiences in Northern Ireland.
"Our outreach programmes form an important role in showing your people how accessible and enjoyable dance can be, both from a performer and spectator point of view.
"We are thrilled to have been awarded funding from "Lloyds TSB to assist us in the development and roll out of these workshops."
For more information and to book tickets contact the Island Arts Centre on 028 9250 9254.
For more information on the performance and Best tour go to www.maidenvoyagedance.com.
Ulster Star
19/02/2010