Dust off your walking shoes to help fight muscular dystrophy
DRUMBEG MUM URGES READERS TO TAKE PART IN SPONSORED WALK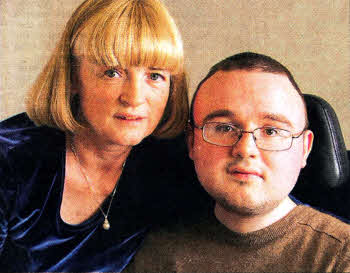 A DRUMBEG woman is appealing for readers to dust off their walking shoes to take part in a sponsored walk in Antrim to raise vital funds in the fight against muscle disease.
Margaret Hegarty from Hambleton Park, whose son Anthony (28) suffers from muscular dystrophy, is asking local people to take part in the Muscular Dystrophy Campaign's Walk for Muscles event at Antrim's Lough Shore Park on Saturday, May 29.
Anthony was diagnosed with the condition when he was just five years of age. His concerned mother noticed his limited use of his arms and awkward movements. By the time he was 13, he was confined to a wheelchair but despite the obstacles, Anthony has gone on to do a Masters Degree in history.
Margaret, who has been part of the Muscular Dystrophy group for 23 years, says the group has given her and her family greatly appreciated support throughout the years.
"The Muscular Dystrophy Campaign has made a huge difference to my family over the years by providing top quality advice and support," she said.
"I hope that people will join the walk on the day so much needed funds can be raised to help other families and to improve treatments for muscle disease.
"I would like to see more money going into research to find a way of preventing the life changing condition."
The walk in Antrim suits all ages and levels of ability and offers routes from one to seventeen miles for walkers or runners.
It starts at Rea's Wood Nature Reserve at Lough Shore Park before continuing south back to the banks of the Lough and ends at Sandy Bay, near Glenavy.
The Muscular Dystrophy Campaign is the leading UK charity focusing on muscle disease. It has pioneered the search for treatments and cures for over 50 years, and is dedicated to improving the lives of all children and adults affected by muscle disease. It funds world-class research to find effective treatments and cures; provides free practical and emotional support; campaigns to raise awareness and bring about change and awards grants towards the cost of specialist equipment.
Ulster Star
30/04/2010