Cash in the can for Marie Curie Cancer Care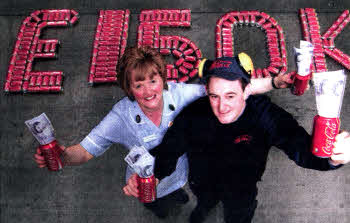 COCA-Cola HBC Northern Ireland Employees have raised £150,000 for local charity Marie Curie Cancer Care.
A result of three years of fundraising activities by the Lisburn based comp a n y, the money raised by Coca-Cola HBC Northern Ireland has funded the 'Breathing Space, an out-patient day therapy service for lung cancer patients at the Marie Curie Hospice in Belfast.
Speaking about the project Anne Hannan, Corporate Development Manager for Marie Curie Cancer Care, said, "Approximately, 900 people are diagnosed with lung cancer every year in Northern Ireland and the new 'Breathing Space' facility has been a welcome addition to our existing outpatient services.
"Before now they supported over 2000 outpatient visits per year to free sessions in the Marie Curie Hospice, Belfast and at Lisburn, Downpatrick and Newtownards.
"Now, because of the fundraising from Coca-Cola we are able to open up our expertise to more people, offering relief to more patients and their families.
"It is fundraising from individuals and companies such as Coca-Cola that is helping the charity realise its aim of being a leader in end-of-life care."
Gillian McBrien, Public Relations Executive for Coca-Cola HBC Northern Ireland, said: "We are delighted that the funds raised by the company will contribute to the care of so many people living with cancer and other illnesses across Northern Ireland.
"As a community focussed business, Coca-Cola HBC Northern Ireland is humbled to work with such a fantastic charity that reaches into the corners of Northern Ireland to support local people."
Ulster Star
23/04/2010