Marine hero Stephen killed in Afghanistan
by JULIE ANN SPENCE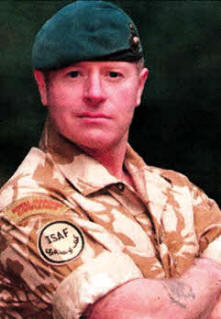 TRIBUTES have been paid to Lisburn-born Marine Corporal Stephen Walker who was killed in Afghanistan last Friday (May 21). Corporal Walker, known as Whiskey to his comrades, was killed in an explosion near Patrol Base Almas, in Sangin, Helmand province.
He was conducting a joint foot patrol with the Afghan National Army at the time.
In tributes paid by family and friends, he is remembered as a devoted father and husband, an outstanding Marine, with a great sense of humour and a "leader of men."
Corporal Walker was born in Lisburn and lived in Exmouth with his wife, Leona, and their daughter, Greer, and was also a proud father to his son, Samuel.
He originally joined the Royal Navy in 1986, qualifying as a cook and serving at HMS Raleigh, HMS Cochrane and on board HMS Cleopatra.
He subsequently transferred to the Royal Marines and during his 20 year career served across the broad spectrum of Royal Marine Units.
Corporal Walker's wife, Leona said her husband has been "passionate, loyal and determined."
She continued: "He enjoyed the role he had in the Marines but he was a family man at heart. He was a fantastic dad to Greer and he was the perfect soul mate to me. Although this is a very sad time, Steve would want us to be positive. Remember the good times, the happy times. A lot of people's lives will be deeply affected by Steve's all-to-early departure. Life goes on, but it will never be the same for us."
On Friday, Cpl Walker's brother updated the social networking website, Facebook, with a simple message announcing the tragic news.
Ian Walker, who still lives in Lisburn, said: "Sadly, I have to share the sad news I got this morning that my hero, my brother Cpl Stephen Walker, Royal Marines, was killed in action in Afghanistan. Lest we forget."
Lieutenant Colonel Paul James, Commanding Officer 40 Commando Group, Combined Force Sangin, said Corporal Walker was "one of the most professionally astute men I have ever met. Brave, loyal, utterly dedicated and absolutely selfless, he died leading his section on patrol in southern Sangin. Having served 20 years in the Royal Marines, he was my most experienced and probably my best Corporal. I valued his counsel greatly and despite being his Commanding Officer, he taught me tactics. Corporal 'Whisky' Walker was, and will always be, the consummate Commando."
Company commander Major Sean Brady added: "Cpl Walker was probably the most professional Marine I have had the pleasure of serving with during my career. The Royal Marines have lost a great leader; however, if he were here now to give us some advice, the consummate professional in him would tell us to 'crack on' and get the job done. So we will. Our thoughts and prayers are now with his wife, daughter and son at this difficult
---
Books of Condolence opened in honour of Corporal Walker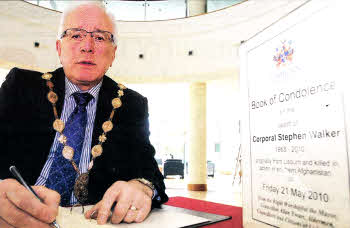 LISBURN City Council opened Books of Condolence this week following the death of Corporal Walker.
They are at the reception areas of the Island Civic Centre, Lagan Valley LeisurePlex and the Irish Linen Centre and are available for the public to sign. The books will remain open until Friday June 18.
The Mayor, Councillor Allan Ewart, passed on his "heart-felt sympathy" to the family and to his colleagues in Afghanistan.
"After learning of his death I felt it was fitting to honour Corporal Walker and his professionalism by opening Books of Condolence for the people of Lisburn and indeed the rest of the Province, to express
their sympathy with Corporal Walker's family" he said.
Lagan Valley MP Jeffrey Donaldson said: This is obviously devastating news for the family. Having called with them I can fully understand their deep sense of shock and sadness at losing such a highly respected and much loved son and brother.
"Stephen is someone who was well known in the local community, as is his family, and we know he was an absolutely professional soldier who loved his career with the Royal Marines and before that the Royal Navy.
"Sadly another one of Lisburn's sons has sacrificed his life in a far off land and I am sure the entire community will join me in supporting his family at this difficult time." Lagan Valley MLA Trevor Lunn also expressed deep sadness.
"Corporal Walker was born in the Lisburn area and I am sure he will be very much missed by people who knew him when he was growing up here" Mr Lunn said.
"He achieved much during his life and it's extremely sad that his family and friends have lost someone so important to all of them.
"The bravery of all our soldiers who serve the country must be recognised. It takes real courage and a strong sense of public service for people to put their safety on the line in their everyday work."
Tributes for fallen hero
THOSE who served with Corporal Walker have spoken of his professionalism, his loyalty and devotion, as well as his sense of humour, intelligence and local for his family.
Captain Dan Sawyers, Officer Commanding, 3 Troop, Alpha Company, said Cpl Walker was 'an outstanding Royal Marine. "He set impeccably high standards, and was a constant reminder of the very qualities that are instilled in every Royal Marine during training. He had a great sense of humour that never faltered whatever the situation. He was also a father figure to the Troop, waking up an hour before everyone else to ensure that the porridge was ready, whilst at night he would oversee the evening meal. He was the consummate professional, and a true friend to all who knew him."
Sergeant 'Darbs' Darbyshire said: "'Whisky' Walker was and still is one of the most professional Royal Marines I have ever met. With his unselfish nature and knowledge of the job, it was often hard to rein his enthusiasm in. He was a larger than life character who will be deeply missed by everyone who knew him. We will always miss you Whisky, but never forget you."
Sergeant 'Dinger' Bell said Cpl Walker was "a proud and loving father and husband, a true Bootneck legend, a leader of men who always led from the front. He inspired all those around him and his values, standards and professionalism were second to none. He was a charismatic man who had a presence whenever you were near him. He never suffered fools gladly, but he strived to bring everyone up to his level and he would never let you down. He was never above you, he was never below you; he was always by your side. Goodbye brother." Corporal Ash Morris said:
"Never has a kinder man walked the planet. Whisky was a man who never failed to speak his mind for the benefit of others, even if this would get him into trouble. All that mattered to him were the things closest to his heart; his family and his loyal section of Marines." Corporal Darren Davis said: "Words cannot do him justice. He oozed every quality that a Bootneck should have - the complete package. Our thoughts and prayers go out to his family, who he adored and couldn't wait to get back to."
Corporal Andrew Lock said: "He was the ideal role model. He was a good family man, and I know that his life outside the Corps was devoted to his wife, son and daughter. I do not know where we all go from here as a Troop; the man was a father figure to all of us. The man was a warrior and should be honoured by everyone. We loved him."
julieann.spence@ulsterstar.co.uk
Ulster Star
28/05/2010