Lisburn company secures major new order in the Middle East
by MARK ARMSTRONG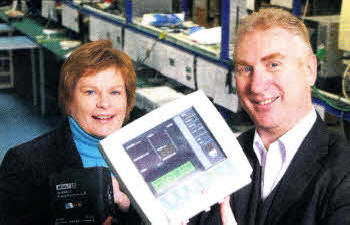 A LISBURN company has won a contract to supply its vital signs monitors to Warba Medical, a major medical supplies business that services hospitals and clinics in Kuwait.
G-Care, which is a subsidiary of Lisburn based company Marturion, a specialist in the design and provision of outsourced electronics, manufactures blood pressure monitors for hospitals and health clinics.
The company's success was announced as a 17-strong group of Northern Ireland companies arrived in Abu Dhabi, United Arab Emirates, at the start of a week-long Invest NI mission that also included business meetings in Qatar and Kuwait.
Having first made contact with Warba medical at last year's Medica exhibition in Dusseldorf, G-Care then followed up the lead at the recent Arab Health show in Dubai.
G-Care took part in Invest NI's. representation at both events and was also advised by the agency's team in the gulf.
Dr Andy Barr, Chief Executive of the Lisburn company, said Invest NI's support at major health show's such as Medica and Arab Health had been "immensely important" as they sought to build a global business base.
He also stressed the importance of the contract to G-Care: "The new business strengthens our position in the Gulf .,now one of our most significant international markets.
"Warba is a substantial company with extensive business in the healthcare sectors in Kuwait and across the Gulf Cooperation markets including the United Arab Emirates and Bahrain. Our success there is based on our standing as a UK designer and manufacturer of vital signs monitors.
"Our customers know that we have complete control over the manufacture of the devices and that these are produced to the most exacting UK quality standards. As a result, the G-Care brand is seen as a mark of quality."
Dr Vicky Kell, Invest NI Trade Director, welcomed G-Care's new business in the Gulf.
"This is a very encouraging development for this ambitious and quality conscious company" she said. "Marturion/G-Care have developed an impressive portfolio of products that add significant value for customers in terms of the functions they offer and in their cost competitiveness."
Boomer Industries Lisburn, an extruded plastics company, was also amongst the Northern Ireland companies represented on the Invest NI mission to Abu Dhabi, Qatar and Kuwait.
Ulster Star
16/04/2010